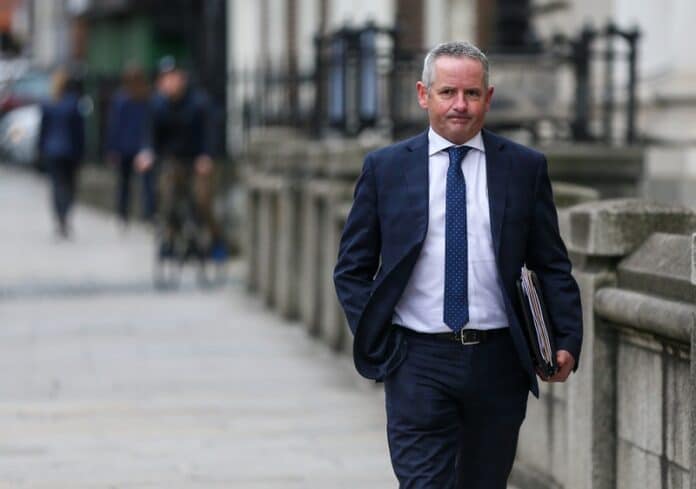 HSE Chief Executive, Paul Reid told the Dáil Health's Committee yesterday, that Ireland now has 10,000 trained vaccinators ready to administer 250,000 vaccines weekly from April.
Paul Reid also defended Ireland's vaccine rollout. He insisted that Ireland has the 5th best in Europe with 513,322 doses administered in the country so far.
Mr Reid was speaking to the Dáil's Committee, having come under fire for Ireland's vaccine rollout and battle with Covid-19.
Mr Reid also warned that Ireland "is not out of the woods" as Covid cases are dropping slowly.
He added that 513,322 vaccines had been administered with 149,721 receiving two doses of the jab. Nursing home residents, healthcare workers and people aged over 85 were included in this priority cohort, which is almost complete.
Paul Reid said that the HSE will be able to administer 250,000 vaccines per week from 10,000 trained vaccinators, as the jab rollout is to be ramped up from April.
He also added that 9,702 healthcare workers have been trained to administer the covid jab, while another 2,000 are applying to work in 37 vaccination centres.
EU Chief, Ursula Von der Leyen said that the European Commission is to recieve 100 million doses of the vaccine in April, with Ireland expected to recieve 1.1%.
NPHET also stated earlier that they are investigating the possibility of vaccinated people having less restrictions or a "vaccine bonus" next month. More here.
Taoiseach & Biden talks
Taoiseach Micheál Martin is to hold covid jab talks with US President Joe Biden next week. The Taoiseach's trip to Washington was originally cancelled, with this meeting to take place virtually.
A source has said, "The ongoing pandemic will be discussed at the meeting. It is expected that the subject of vaccines will also be raised".
"It is expected to be a discussion about global co-operation on the supply of Covid-19 vaccines".
They also added, "The Taoiseach won't be begging for extra vaccines from the US. But when it comes to reopening globally there will need to be discussions about vaccines for developing ­countries".