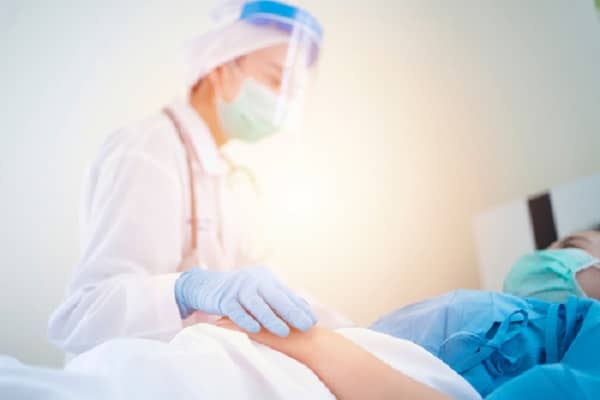 Fifty nurses have contracted Covid-19 in each of the last two weeks.
The INMO's General Secretary Phil Ní Sheaghdha told the Oireachtas Health Committee that nurses have been infected with Covid-19 while at work.
Although PPE has improved since the beginning of the pandemic, Ní Sheaghdha remained critical of supports available for nurses who contract the virus. According to the General Secretary, nurses contracting Covid-19 can mean a "high level" of nurse absenteeism from work. Many have been out for up to four months.
Ní Sheaghdha believes there is a crisis in the health service due to high number of healthcare workers infected with Covid-19. The GS thinks we have a high level of absence, with many members reporting absences of up to 17 weeks. Particularly in areas where they "have been directly caring for Covid patients."
"PPE has improved and the supply of PPE has improved but for the last two weeks 50 nurses each week have been infected at work from Covid-19, and that's a very high figure".
According to Ní Sheaghdha, the union is asking that the HSE re-examine certain policies. Some mean nurses return to work "even if they have been a close contact". She told the committee the nursing workforce is 91% female and that "thought must be put into childcare needs".
"We can't have what happened earlier in the pandemic in March and April where that was basically left to chance," she said.
Although Ní Sheaghdha welcomes plans announced in the Budget for additional hospital bed capacity, she believes more is needed.
"[E]ach time you hear the word bed you have to think the word nurse".
Inside INMO's statement, it was said that any additional beds promised "must be adequately staffed by nurses and midwives". It said the additional 67 critical care beds planned would require about 435 nursing posts.
"Appropriate and safe staffing levels are essential to the lives of patients across the country's ICU settings, as exposing critically ill patients to high workload/staffing ratios is associated with a substantial reduction in the odds of survival."
With the resulting shortage, The National Children's Hospital will be unable to open all beds. The Irish Nurses and Midwives Organisation (INMO) said the new hospital would need 300 additional nurses to operate.