Guinness has teamed up with Jamie Dornan to launch Guinness NITROSURGE, a device with new technology that allows you to do the famous two-part pour at home!
The Hollywood star and Belfast native Dornan, plays himself in the first of the series of the light-hearted, humorous videos and assumes that he is the smooth operator, but later acknowledges that in this instance the Guinness NITROSURGE is even smoother than he is!
"I'm a massive fan of Guinness so I was delighted to work with them on this amazing new technology and fun content series. Guinness NITROSURGE is a game changer for beautiful pints at home – I'll be using it to impress guests this festive season," said Dornan.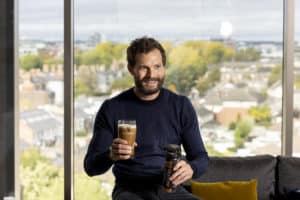 Brewed using four natural ingredients, water, barley (malted & roasted), hops and yeast, Guinness is the world's most popular stout. The iconic beer is brewed in 49 countries worldwide and sold in over 120. The most Guinness is sold in Great Britain, Ireland, USA, Nigeria and Cameroon.
Guinness NITROSURGE first hit stores in late September and is now available from retailers nationwide at a recommended retail price of €24.99.
To find out more, visit nitrosurge.guinness.com
Enjoy Guinness Sensibly and visit www.drinkaware.ie