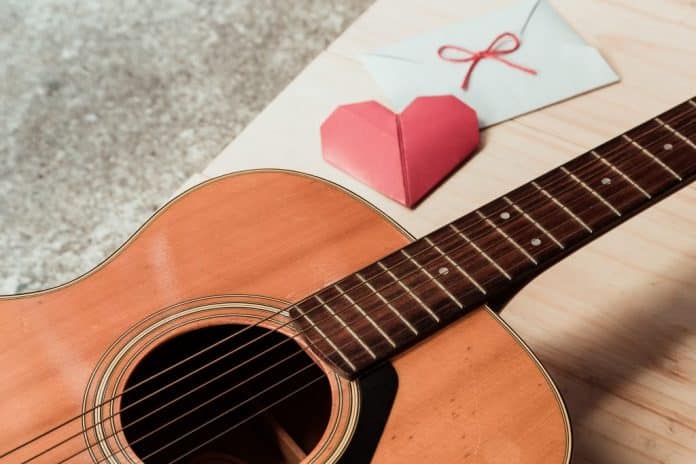 Love & Heartbreak are probably the most popular subject matters for songwriters and musicians. Many find it therapeutic to write about their heartbreaks, and other want nothing more than to show their loved one how they feel, through music. Whether you'll be serenading your other half, or belting them out on your own, we hope you enjoy what we think are seven of the best classic rock love songs!
1. Led Zeppelin – Whole Lotta Love
This monstrous track isn't what you would automatically think of when someone says 'love song', but it certainly has it's own way of getting across those loooove vibes. As Page plays heavy on guitar, Plant huffs, puffs and wails about wanting to "give ya my love / way, way down inside." His 'oh, oh, oh, ohs' also seem to get the message across fairly well.
2. Aerosmith – I Don't Wanna Miss A Thing
More traditionally a love song than Zepp's, 'I Don't Wanna Miss A Thing' couldn't be left off of the list. 'Don't want to close my eyes, I don't want to fall asleep, 'Cause I'd miss you baby, And I don't want to miss a thing…' Need we say more? Imagine someone wrote those words about you. Goosebumps.
3. Fleetwood Mac – You Make Loving Fun
More upbeat than the Aerosmith's, Fleetwood Mac's contribution to this fine list is 'You Make Loving Fun'. The track was the fourth and final single from the iconic record 'Rumours' released in 1977. The song was actually inspired by an affair that writer of the song, Christine McVie had with the band's lighting director, Curry Grant (we are not endorsing affairs). To avoid being found out, she told her then-husband John, that the song was actually about her dog… he eventually found out what it was really about.
4. Prince – Purple Rain
'Purple Rain' is of course one of Prince's biggest hits, it was created in collaboration with 'The Revolution' and is also known as one of Prince's signature songs. Written for his 1984 album of the same name, it also featured on the soundtrack for the 1984 movie of the same name (writer's block happens to the best of us). Prince explained the meaning of the song as follows: 'When there's blood in the sky – red and blue = purple… purple rain pertains to the end of the world and being with the one you love and letting your faith/god guide you through the purple rain.'
5. Queen – Love Of My Life
From Queen's 1975 record 'A Night At The Opera', Love of My Life is a beautiful ballad written by Freddie Mercury about Mary Austin, whom he had a long term relationship with in the early 1970s and remained life-long friends with, eventually leaving her his entire fortune when he died.
6. Guns N' Roses – Sweet Child O Mine
'Sweet Child Of Mine' is taken from G N' R's debut album, 'Appetite For Destruction' in 1987. It was the band's first and only number-one single in the US. Lead singer of the band, Axl Rose wrote the lyrics to the song about his then girlfriend, Erin Everly, and declared that Lynyrd Skynyrd served as an inspiration "to make sure that we'd got that heartfelt feeling". Slash later spoke out against the song, saying 'Sweet Child o' Mine' turned into a huge hit and now it makes me sick. I mean, I like it, but I hate what it represents.' We still think it's a banger.
7. Rolling Stones – Wild Horses
The last track in our list 'Wild Horses' come from The Stones' 1971 record, 'Sticky Fingers'. The track was written by Mick Jagger and Keith Richards. Jagger has denied that the song is about his former love, Marianne. So who is it about we wonder… Keith?