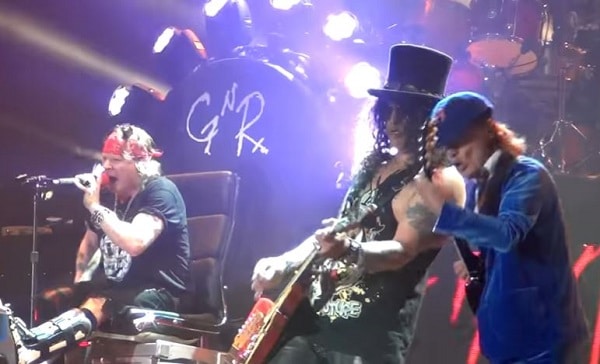 Angus Young said the idea of AC/DC continuing with Axl Rose after the Rock or Bust tour "never really came up." The Guns N' Roses singer came in when hearing problems forced Brian Johnson's to pull out in 2016. Rumours began circulating that Axl would remain in the band full-time, once the tour was complete.
Recently, Angus Young gave an interview to Total Guitar, in which he spoke of Axl's future participation.
"That never really came up," said Young. "Axl was really very generous, and he helped us out to get through our touring side at a difficult spot.
Young said Axl made contact with AC/DC and said he could help, if it didn't interfere with his own commitments.
"He wanted to come in and try songs that he himself liked. He was suggesting songs I hadn't played in a long time. I'm definitely grateful that he volunteered, and that had helped us finish off our commitment. But he has his own life."
Upon completion of the tour, Young and his nephew Stevie were the only remaining members of the Rock or Bust project. Along with Johnson's departure, bassist Cliff Williams retires and after some legal issues, drummer Phil Rudd was replaced.
"At that point, you're at the great unknown," Young explains. "We didn't know what would happen. You're in a bit of a case of limbo. But at the time you just go, 'I'm committed to getting through this, and then after that I'll concentrate on what comes."
AC/DC tours are on hold for now
All three members return for the band's new album, Pwr/Up, which will release on November 13th. (The band dropped a teaser last month). AC/DC planned to tour again before the coronavirus lockdown forced them to put it on hold, Cliff Williams said. In an interview with Rock 100.5 Atlanta, Williams said the band spoke had talks about playing some shows.
"Unfortunately, we all went home after that rehearsal and conversations, and then this damn virus hit. So, it was never taken any further. So, like everybody, everything in on the shelf. But we would love to get out and play again."
Williams adds it didn't take much to persuade him to re-join AC/DC for the making of Pwr/Up. "Rock or Bust was due to be my last fling, and that was a tough tour to finish," he recalls.
"But when I heard that Brian and Phil were back, I was super-excited to join in."