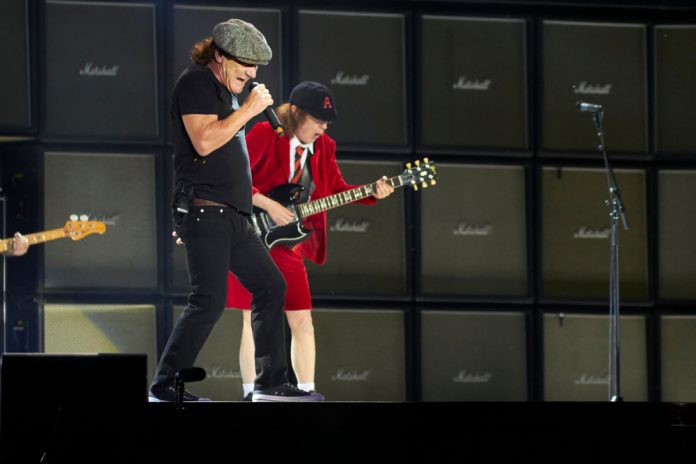 AC/DC once went hunting for the Loch Ness monster. Brian Johnson has recalled the time that he and the late Malcolm Young once tried to find the Loch Ness monster by shooting fireworks into the loch, whilst drunk.
Having been around for decades, you would think we know everything there is to know about the rock gods, but no. For centuries, rumours of the mythical beast also known as Nessie has had many people intrigued and two of the most famous rockers of all time, were no different.
Talking to NME, Johnson tells the tale of how they tried to hunt the Loch Ness monster.
"We both had these Land Rovers and we'd taken them for a trip around Scotland – Malcolm loved his fireworks and he'd taken a big box with him."
"One night, we were four sheets to the wind and staying at this hotel right on the side of the loch," he continued. "Mal just said, 'C'mon, let's go and find the Loch Ness monster! I've got fireworks and it might attract it!"
The singer continued "There we were, going straight into the water in our shoes, up to our knees, and it was freezing! Mal had a drink in one hand, a box of fireworks in the other and was trying to set fire to the loch. We were just howling. By the time we got back to our wives we had straw in our hair and were covered in mud. What a night!"
In the same interview, Johnson revealed his hopes about the new album. He hopes it inspires a new generation of musicians.
"Instead of looking at dancers on TikTok, I'm hoping this album will make young kids go out and buy a guitar. It would just be great to get more young rock bands out there, writing their own songs and getting up there on stage."
The rock icons have a new album coming out. Entitled 'Power Up', it is released on November 13th. For more information on the new album, you can check out Radio Nova's report on it here. It is the first album without legendary guitarist Malcolm Young. It is the band's follow up to their 2014 album, 'Rock or Bust'.
The new album has no music played by Malcolm Young but the album was inspired by the late guitarist. It's why he receives writing credits on all 12 songs. The album was recorded in Vancouver and produced by Brendan O'Brien and engineer Mike Fraser. The two worked with AC/DC before on previous albums 'Black Ice' and 'Rock or Bust'.
AC/DC recently released the first single from the new album 'Shot In The Dark', you can check it out below.
'Power Up' track list
Realize
Rejection
Shot In The Dark
Through The Mists Of Time
Kick You When You're Down
Witch's Spell
Demon Fire
Wild Reputation
No Man's Land
Systems Down
Money Shot
Code Red