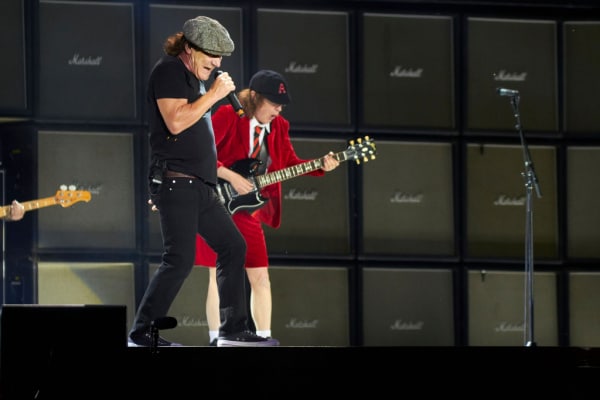 Austrailian rockers AC/DC have provided the inspiration behind a brand new children's alphabet book in their native country.
Arriving on November 11, The AC/DC AB/CD High-Voltage Alphabet is to be released via Love Police, who are a touring, merchandising company and record label.
The book's target audience is pre school going children. Designed and produced by Paul McNeil, the book is also full of colourful imagery and AC/DC inspired humour.
An extract from the book includes the following.
"A is for Angus [Young], who thinks it's good luck, to wear a school uniform, and walk like a duck." Or, "C is for Cliff [Williams], who plays on the bass, likes only 4 notes and has a nice face". 
"an honour"
This is the fourth book to be released by Love Police, who began releasing this material with M Is For Metal in 2007.
Never Mind Your Ps & Qs: Here's The Punk Alphabet was released by the company a year later, before Love Police released ABC&W: The Country And Western Alphabet Book in 2009.
Love Police founder Brian Tarantino also released a statement, where he described the chance to work on this book as an "honour".
"Yeah, it's a kids book, but any AC/DC or music fan will find something on every page," he added. "[McNeil] has done a sweet and rockin' job. We are looking forward to educating another generation of rock and rollers!", he said.
AC/DC Singer's Autobiography Arrives Tomorrow
Along with this alphabeat book, AC/DC frontman Brian Johnson's autobiography 'The Lives Of Brian' is to arrive tomorrow (October 13). 
The book is to be published by Penguin Random House, and their director Rowland White had this to say.
"From growing up in the northeast, the son of a former British army sergeant-major and an Italian mother, to fronting world's biggest rock band, The Lives of Brian tells one of the best stories in music in Brian's own inimitable voice". 
Along with his early life in County Durham, the book is to explore the AC/DC singer's initial success with the band Geordie, before the gates of rock and roll stardom with AC/DC opened.