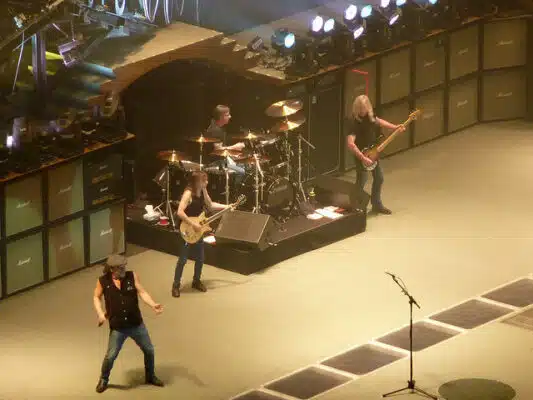 Aussie rockers AC/DC have made their choice, they're dumping their long-time drummer Phil Rudd and replacing him with another former AC/DC drummer.
With the band's 'Rock Or Bust' world tour quickly approaching, AC/DC have chosen Chris Slade as their new drummer.
Slade was formerly a member of AC/DC in the nineties and appeared on 1990 album The Razor's Edge.
Chris Slade temporarily filled in on drums for the group's Grammy Awards appearance, while Phil Rudd dealt with his legal issues in New Zealand.
Now that temporary position has become full time, the band issued the following statement: "Chris Slade will be on drums for the upcoming Rock or Bust World Tour."
Controversy has surrounded the band in recent months after Rudd was arrested for trying to arrange a murder. The charge of attempting to procure the murder of two people has since been withdrawn. However, the two other charges of threats to kill and drug possession still stand.
Rudd's been charged with marijuana, mephamphetamine posession and threatening to kill charges, with the possibility that he could spend up to seven years in prison.
The 'Rock Or Bust' tour arrives in Europe at the end of June, they're playing Glasgow's Hampden Park before the band hits our shores at the beginning of July for one night only.
The group are returning to Ireland for the first time since 2009, when they played Punchestown as part of their 'Black Ice Tour'.
The Aussie rockers will play the Aviva stadium on July 1st 2015.