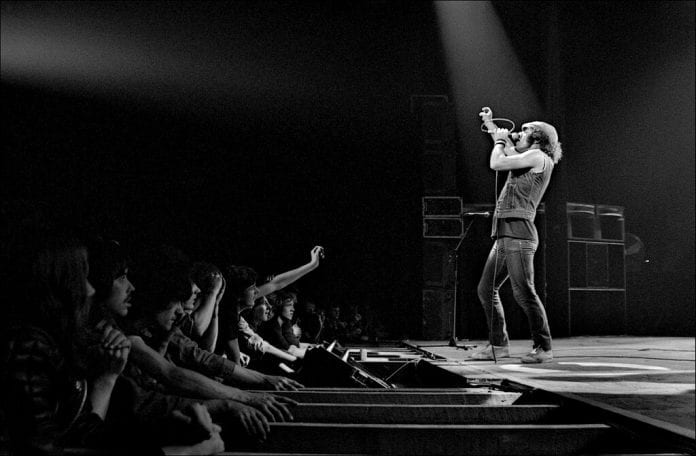 AC/DC's former front man Brian Johnston is hosting his own show.
Johnson was forced to leave the band due to health reasons. He was replaced by Guns N' Roses singer Axl Rose last March on the band's recent 'Rock Or Bust' tour for U.S. and European dates after he was ordered by doctors to stop touring or face permanent hearing loss. He has since been working with specialists on a possible solution. According to Rolling Stone, he met with Stephen Ambrose, an in-ear technology specialist, and is hopeful that his work will improve his hearing loss.
It seems Johnson has now turned his attention to TV. Sky Arts announced the new TV series titled Brian Johnson's Life On The Road which will see the rocker interview a host of big names from the world of rock and metal, with the first episode featuring The Who's Roger Daltrey scheduled to air on April 28.
Sky Arts say: "One of rock music's iconic and tour-hardened frontmen, Brian Johnson, gives us a brand new and exclusive take on one aspect of the rock and roll life – live performance, touring and being on the road."
The following five episodes see the singer talk to Metallica's Lars Ulrich, Pink Floyd's Nick Mason, Sting, Def Leppard's Joe Elliott and Robert Plant. Johnson lifts the lid on the realities of life on tour.
Def Leppard frontman Elliott said: "Brian Johnson flew into Dublin to interview yours truly for a TV show that he's doing called Brian Johnson's Life On The Road and I was quite humbled to be invited to do it because the guests that he's got on the show are quite extraordinary.
"We spent about eight hours shooting the show. We were walking around the Temple Bar area of Dublin in the rain and wind. It was cold and horrible but we did spend most of it indoors at The Porterhouse HQ where he sampled Joe Elliott's Louder beer.
"To be quite honest I think he quite enjoyed it."
Picture Credit: Harry (Howard) Potts