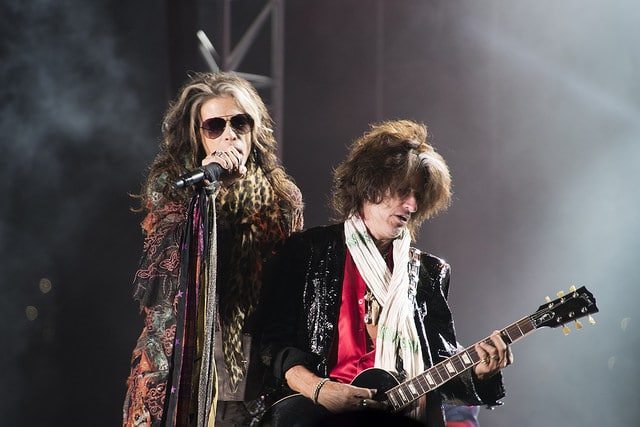 Aersomith recently said that they could be calling it quits next year. Steven Tyler has opened up about the future of the band in a new interview.
The last time that Aerosmith performed together was in Autumn of last year when they headlined a show in Moscow. The band are currently on hiatus at the moment as Steven Tyler is touring his new solo album.
Speaking in a new interview with Rolling Stone, Steven Tyler said "I'm doing 30 [solo] shows from May until August. And then in 2017 we go out with Aerosmith."
He then said "We're probably doing a farewell tour. Look, there's two bands that still have the original members, us and the Stones. I'm grateful for that." He continued saying "Whether we do a farewell tour or go into the studio and do another record, I'm just excited about it."
Speaking about a possible farewell tour with Aerosmith he said "I guess it's just because of our age. You know, something's gonna happen. It's just inevitable that somebody's not gonna be able to do it anymore. So it would be very nice to take a nice long bow and say thank you and … put it to bed kind of gracefully."
Steven Tyler is currently working on his country music side project, whilst Aerosmith guitarist Joe Perry is working with another band Hollywood Vampires which is fronted by Alice Cooper.
Photo Credit: Yuichi Sakuraba