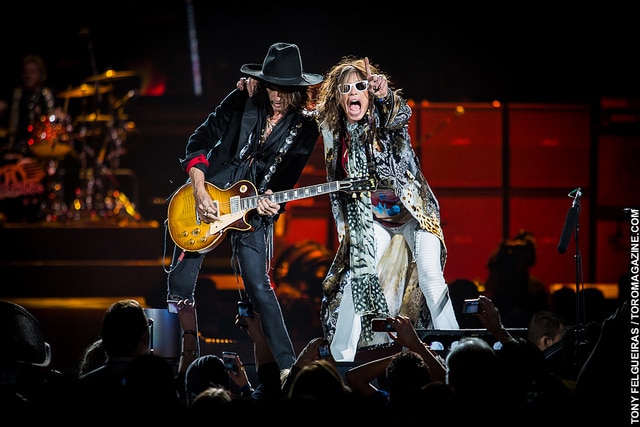 Hard rock band Aerosmith have announced that they will release a DVD of their live set at last years 2014 Download festival.
The DVD, titled Aerosmith Rocks Donington 2014 features one of the band's best loved live gigs in recent memory. The live footage of the set had already hit cinemas in February and will be released on DVD in September.
Rhythm guitarist Brad Whitford says that the music hasn't been altered and what's on the DVD is the "unfiltered" version of the band's performance. Speaking in an interview, Whitford said "On this particular show, you are hearing it exactly as it happened. Nothing has been fixed or repaired, just sonically enhanced. If you weren't there … you will see something that's as good as it can possibly be represented."

2015 sees the 45th anniversary of the band's foundation in Boston in 1970. It's also the 40th anniversary of the band's breakthrough album Toys In The Attic.
Aerosmith also look to return to the touring circuit next month. The 2015 Blue Army Tour is currently set to hit 16 locations across North America in places where the band hasn't played before. Singer Steven Tyler has held off on any new Aerosmith music as he looks to complete his solo country album.
Photo Credit: Tony Felgueiras