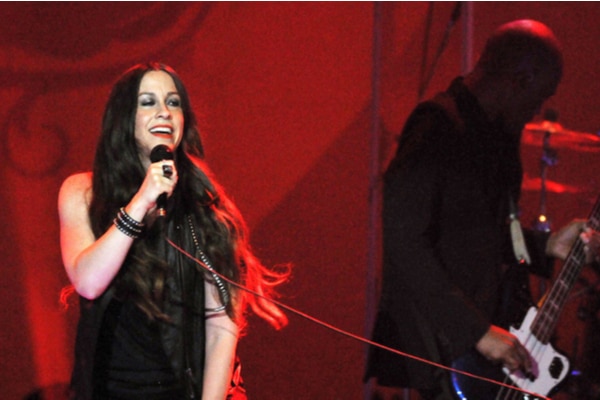 In a new documentary Jagged, Alanis Morissette has claimed that she was raped when she was 15 years old.
Jagged is airing at the Toronto Film Festival today (September 13). It was also reported that the musician will not attend the event.
Directed by Alison Klayman, Jagged will be broadcasted by HBO following its premiere at the Toronto Film Festival. It will reflect on Morissette's life and career.
Morissette said it took years to reveal "Any kind of victimisation on my part"
Speaking of the film, Morissette told the Washington Post, "It took me years in therapy to even admit there had been any kind of victimisation on my part".
"I would always say I was consenting, and then I'd be reminded like 'Hey, you were 15, you're not consenting at 15', she continued. "Now I'm like, 'Oh yeah, they're all paedophiles. It's all statutory rape".
While she did not reveal the identity of her abusers, Morissette had said that she had previously told "a few people". But, she said that her claims "kind of fell on deaf ears".
She also added, "It would usually be a stand-up, walk-out-of-the-room moment".
"You know a lot of people say 'why did that woman wait 30 years? And I'm like fuck off. They don't wait 30 years. No one was listening or their livelihood was threatened or their family was threatened", she continued.
"The whole 'why do women wait' thing? Women don't wait. Our culture doesn't listen".
Back in May, Alanis Morissette had released a track "Rest", supporting this year's World Mental Health Action Day.
"Today is #MentalHealthAction Day. I'm sharing a song entitled 'Rest' written specifically about those of us who struggle with depression and anxiety, isolation, suicidal ideation and the profound despair that mental illness can plunge us into", Morissette said of the song via Twitter.
The singer has also announced new dates for her 2021/2022 World Tour. Morissette will play in Dublin's 3Arena on 25 November 2021. More on this here.