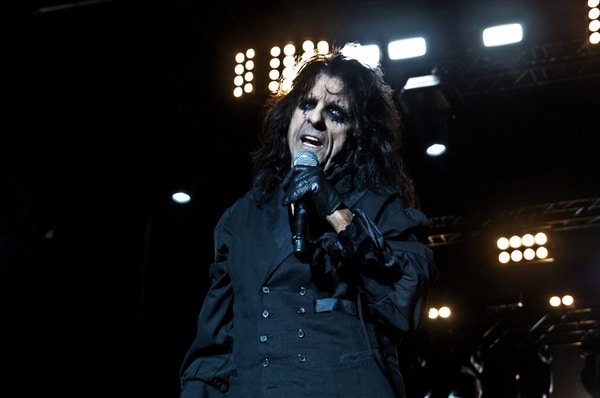 American rocker Alice Cooper is to co-headline a UK tour with British band The Cult in 2022.
Cooper and The Cult will play six dates in May and June of next year in Swansea, London, Manchester, Glasgow, Birmingham and Leeds.
Alice Cooper and The Cult have announced a co-headlining tour for next summer hitting Britain's arenas in May and June 2022. Pre-sale tickets and VIP Packages are now available at https://t.co/DKeDk7mVHh

Use code SICKTHINGS pic.twitter.com/NtX8SCiCel

— Alice Cooper (@alicecooper) September 14, 2021
Cooper cracked the UK album Top 5 this year with his latest album Detroit Stories, which pays homage to his roots in the Detroit rock scene of the late 1960s.
"Detroit was the epicentre for angry hard rock," Cooper said of the city that shaped his sound. "After not fitting in anywhere in the US (musically or image-wise) Detroit was the only place that recognised the Alice Cooper guitar driven, hard rock sound."
The Cult's most recent album came in 2016 with Hidden City, their 10th studio album. They subsequently embarked on a world tour which lasted into 2019 and saw them share bills with the likes of Primal Scream, Foo Fighters and Guns N' Roses.
A statement promises fans attending the concerts will experience "a dark, twisted trip through goth, psychedelia, macabre theatre and straight up rock anthems when these two giants take to the stage."
+ ALICE COOPER x THE CULT +
PRESALE BEGINS TODAY!

The Cult Artist Presale (+VIP) (14 Sep 10AM – until 16 Sep 10PM)
Series Pagehttps://t.co/5oNXWpR1E1

(Password: CULT) pic.twitter.com/nuTXpEiyM8

— THE CULT (@officialcult) September 14, 2021
Cooper's first visit to the UK back in the early '70s drew the ire of conservatives like Mary Whitehouse and MP Leo Abse, who campaigned to have him banned from the country.
"His incitement to infanticide and his commercial exploitation of masochism is evidently an attempt to teach our children to find their destiny in hate, not in love," Abse said of the rocker.
Cooper claims the controversy ironically boosted his popularity.
"There was no internet then so everything I did was magnified totally out of control, that's why Mary Whitehouse and Leo Abse and those people, they heard the rumours but they had never seen an Alice Cooper show," he reflected recently. "I agree I would've been a little wary of bringing Alice Cooper into England too if I'd heard the rumours they heard, but we couldn't have paid them to say what they said. They helped us so much just because of the fact that they kept going, 'Oh this band will never play England', and we got banned in Russia, everywhere, and of course every teenager in the world wanted to go see Alice Cooper at that point then."
"Us coming over to England and chopping up baby dolls, and the blood and the snakes, was extremely exotic to the public," Cooper told Kerrang magazine. "And the fact, then, that MPs tried to ban us made us even more exotic. We were like the villains of rock'n'roll and everyone wanted to come and see why. They loved the songs, but on top of that you had this show unlike any other. It was the outlaw in Alice Cooper that made everyone want to come out."
Now Cooper is seen as more of a cuddly grandfather figure. He even recently released a colouring book themed around his career.
View this post on Instagram