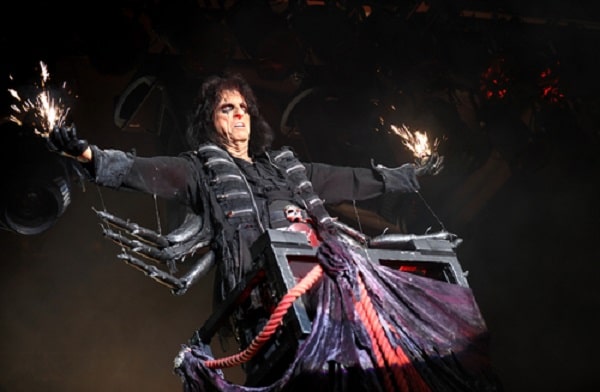 Alice Cooper is running for president, something he has done satirically every four years since releasing the song 'Elected,' back in 1972.
The 2020 Presidential Election is coming up and the rock legend is getting ready by releasing a new video for his classic song.
"Elected" was the first single from Cooper's iconic sixth studio album, "Billion Dollar Babies". The latest track is an updated version of his timeless classic. The track reached No. 1 in the U.S. and U.K. and was certified platinum by the RIAA. Cooper sings in the new video through a loudspeaker from a podium, and the words remain as relevant as ever.
The new video features call-backs to the original 1972 music video, in which Cooper first announced his "candidacy" and the formation of the Wild Party. It shows a comedic look to the election and shows Cooper as the best candidate for the job.
The 'Godfather of Shock Rock' is running on the "Wild Part" ticket and his platform says it all: "I can do nothing as well as they can do nothing." With his official website adding, "I have absolutely no idea what to do."
People can show support of the Wild Party by purchasing memorabilia via his online shop. T-shirts, stickers, and pins are for sale. They display Alice Cooper, dressed as Uncle Sam and holding his own severed head, with the slogan "A Sick man for a Sick Nation / Wild Party Forever".
Earlier this year, Cooper shared the inspirational anthem "Don't Give Up". The song is very direct in its message as Alice tries to inject some hope into the world by saying the world will always continue. A message read in the video description:
"Don't Give Up" is a song about what we've all been going through right now and about keeping our heads up and fighting back together. This video wouldn't have been possible without you – and who knows, you might be in it! And whatever you do – Don't Give Up!"