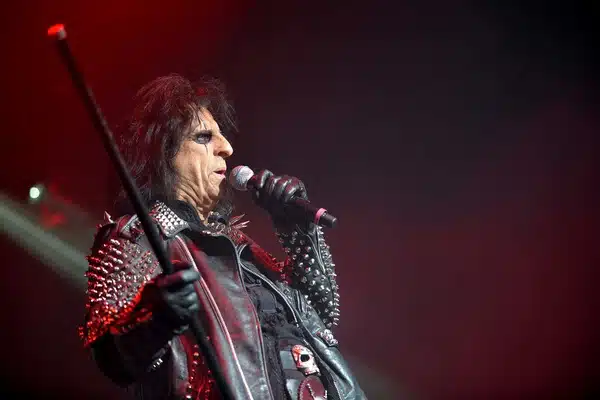 Would you like to listen to the article instead of reading it?
Rocker Alice Cooper once shared his five all time favourite horror films of all time.
Cooper who began his 'Too Close For Comfort' Tour last night (April 28), named these films, in an interview with NME some years ago.
Cooper first confirmed details of this tour back in January. More on this here. And here.
"Are you ready?"
Before listing his all time movies, Cooper did issue a few words of warning, "Are you sure? Are you ready?", he asked, before taking us through his list.
Number one on Cooper's list was Stephen King's 1979 adaption, 'Salem's Lot', which he described as "one of the great vampire movies".
"I don't think they realised how good this movie was until after they made it", Cooper commented. "Barlow was the great, maybe the scariest vampire of all time…If you haven't seen Salem's Lot, don't write it off as a TV movie, it's one of the really truly scary movies". 
The next film to make the list of great Cooper favourites was 1977's Suspiria, which he said was "a movie about a little girl in a ballet studio in Italy, and it is just pure creep. It's just creepy".
"You never do see a monster, and that's what makes it creepy. The really good horror movies are the one's where you don't see the monster", the singer also added.
"absolutely terrifying"
Having started off by chosing two films from the 1970s era, Alice Cooper delved back a decade with The Haunting Of The Hill House from 1963, as his next movie of choice of all time favourites.
"It was made in the early 60's, Claire Bloom, Julia Harris; another movie where you don't see the monster", Cooper said. "But, the way it's shot in just black and white, it is absolutely terrifying".
Despite featuring a very good friend of his in Catherine Zeta-Jones, Alice Cooper added that he was disappointed with the 1999 remake of the film. He felt that they showed the monster that "killed all the scariness". 
The final two films that made Cooper's list were The Evil Dead from 1981, and 1962's psychological thriller Carnival Of Souls.
Cooper went on to call The Evil Dead "pure fun", whereas for the Carnival Of Souls, he says, "For some reason the black and white movies were just grittier". 
Along with films, Alice Cooper also mentioned three bands that he feels all music lovers should listen to. More on that here.