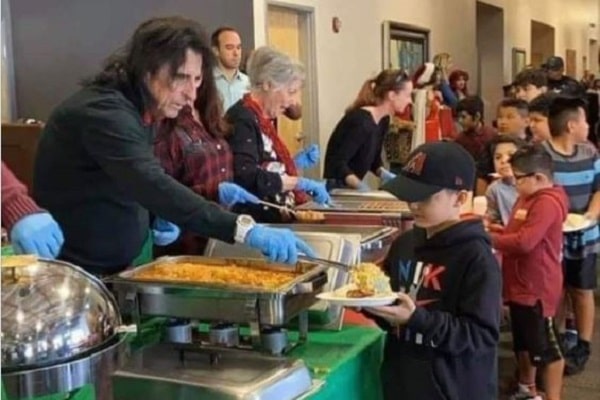 Upholding his reputation as one of the gentlemen of rock, Alice Cooper has taken care of his crew through these unprecedented times. In a recent interview, the shock-rocker revealed that he thoughtfully set money aside for his crew at the beginning of the pandemic.
His generosity has been perfectly captured in a recent viral image of the rocker feeding children at a community potluck. The 73-year-old has continued his good nature and feels all responsible bands should have made the decision to support their crew at such uncertain times. Last year however, Alice had foreseen the longevity of the pandemic and arranged crew to be supported monetarily, regardless of state-provided assistance.
In an Forbes interview on December 21st, Alice explains, "When we saw this coming, we put money aside for our crew. … We put money aside as a backup for them. Because we knew that their unemployment would run out, you know? And then they'd have something to go to. I think all responsible bands did that. Hopefully."
"Because these are people we live with. We work with them every day. The guys that run the stage are as important as the guys that play guitar," Alice declares. "So, we made sure that everybody was covered. And that was really important. Hey, we thought this thing was gonna last a month! 18 months?! Unreal."
Having lost 15lbs from contracting COVID-19 last year, Alice still had enough in him to create his first studio effort in four years. Back in February, Coop' released Detroit Stories – the twenty-first solo and twenty-eighth overall studio album by the American singer-songwriter.
"We did the album right before the pandemic hit," Alice explains. "I went to Detroit. I said I wanted to do a rock album, a full-out rock album. You can't do that … in Nashville, you can't do it in L.A., and you can't do it in New York. The only place you can do a real hard rock album is Detroit. That's the home of hard rock."
Alice Cooper used to hold an annual holiday party for underprivileged youth at his since-closed restaurant, Cooper'stown, as shown in a 2013 update on his website. While he now hosts the Christmas Pudding Fundraiser, he is still set to mount tours of America and the UK next year.