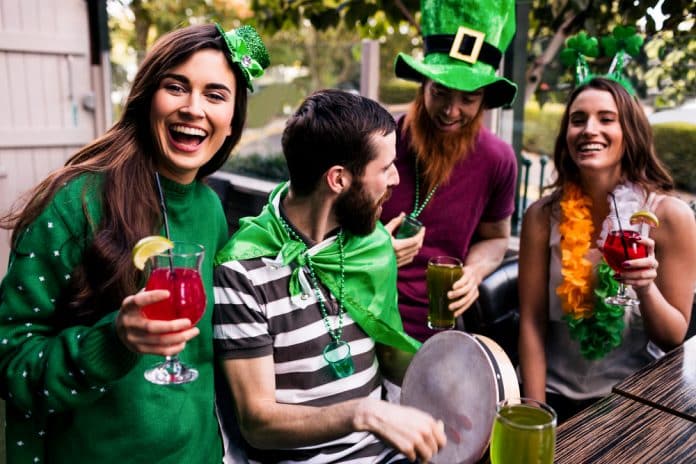 Are you sick of the regular Paddy's Day routine? Heading down to the pub for a few, attending the parade and then wondering why you didn't go home when it was over the next day?
Yeah, sometimes St Patrick's Day just doesn't suit everyone, but thankfully there are plenty of events taking place around the country over the weekend that don't involve a parade.
Check out these cool events so you don't have to deal with the hustle and bustle of St. Patrick's Day in all it's glory…
1. Father Ted St Patrick's Weekend Special
The guys in the Laughter Lounge are hosting a Fr. Ted, St Patrick's Weekend Special and it sounds class. Taking place from March 15th – 17th, four of the most popular Irish comedians from Father Ted will hit the stage and even host a 'Lovely Girls Competition'! The show kicks off at 7.30pm each night – you don't want to miss this one visit www.laughterlounge.com.
2. Greening the City
Take a stroll through the city on Thursday evening as many of the buildings turn green for the weekend. Taking place at 5pm it's sure to leave you feeling patriotic and it'll be a wonderful stroll for all the family. For a full list of buildings visit St Patrick's Festival.
3. The Guinness Supper Club
Tickets can be got from the Guinness Storehouse for what is deemed to be the ultimate St Patrick's Day experience at the home of the black stuff! Exploring the theme of 'home' you will be watered, fed and filled with a magical experience.
4. Guinness in the Liberties
Taking place from 1.30pm on Friday, this is going to be amazing! Starting from St. Patrick's Cathedral, the tour will weave its way along Thomas Street towards its final destination the Open Gate Brewery for a special experimental beer tasting. Obviously, it's over 18's only.
5. Where We Live: Made In Dublin
It's FREE and set to be astonishing. A ferocious response to the theme of home, a kaleidoscope of stories about what it feels like to live in Dublin and Ireland today, told by some of the best storytellers on the island. The event is being held in Smithfield on St Patrick's Day and should bring a huge crowd.
6. Circus – St Patrick's Day Special
The Academy are hosting the biggest St Patrick's Day party in Dublin City according to themselves, but to be fair it does look like it's set to be a great gig! Tickets are on sale now.
7. Saileog Ní Cheannabháin – EPIC Museum
Saileog Ní Cheannabháin is a musician, singer and composer. A native Irish speaker, who grew up in Dublin, her sean-nós singing style is mainly influenced by singers from the Connemara Gaeltacht. Saileog will be performing live in the museum on Monday, March 19th at 1.30pm and it's FREE!
8. Ireland in Full Colour
This project takes on the #IAmIrish dialogue initiated by Lorraine Maher at 2.30pm on Monday, March 19th. The project addresses the diversity of Irish identity and how we can challenge perceptions of what it looks like to be Irish. Jim Carroll of Banter and RTÉ, will host a panel of speakers who share their stories and experiences of what its like growing up in Ireland and what the future might look like for people of mixed Irish heritage.