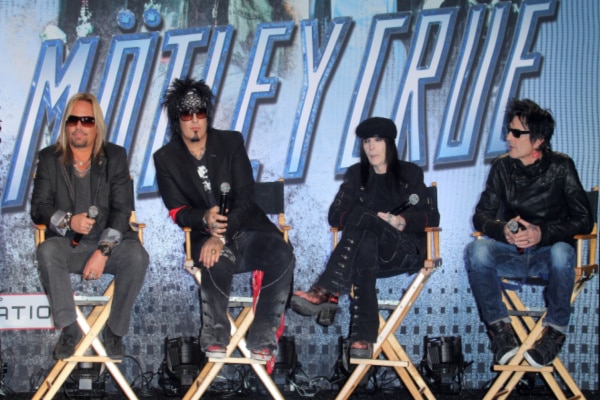 It has emerged that Amazon Prime have mistakenly used an image of Steel Panther as the artwork for Motley Crue's film Rock 'n Roll Icon: Mötley Crüe.
The band's logo appears over a press shot of Steel Panther on Amazon Prime. At the time of writing this piece, the logo was still appearing on Amazon's official website.
The film itself looks at Motley Crue, who were of course founded by Nikki Sixx, Tommy Lee, Vince Neil and Mick Mars.
"Who's gonna tell them?"
This error did not go unnoticed among fans. One commented, "Who's gonna tell them?".
Steel Panther's Michael Starr has also reposted the image via his Instagram account. Check this out here.
Steel Panther who also include Stiz Zadinia and Satchel, are renowned for parodying glam-rock groups together from the 1980s.
Motley Crue V Steel Panther 
What makes this even more bizarre, is the fact that there is beef between the two bands.
Three years ago, Michael Starr once remarked in an interview that he would love to bring Vince Neil back from the dead.
After being reminded by Stix Zandinia that Neil was still alive, Starr clarified that he "would bring back the Vince Neil from back in the day, because that guy is dead". 
This prompted Motley Crue's Nikki Six to telling Starr to "go f*** himself". While a fan of the band also added, "That's why they [Steel Panther] are a******s. Backstabbers". 
Earlier this year, it was confirmed that Motley Crue were among the highest earners of 2021. They appeared alongside Red Hot Chili Peppers in the top 10 highest earning artists for that year.
Motley Crue appeared at number 8 in the chart, with fellow LA rockers Red Hot Chili Peppers in 6th place. It was also reported that Motley Crue accrued $90 million for the year. More on this report from Nova here.