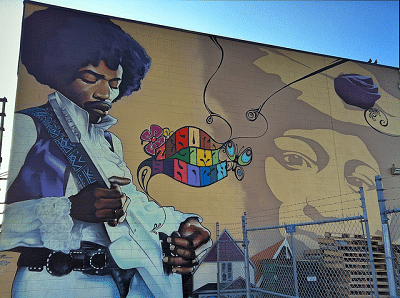 André 3000 has been speaking about the preparations he undertook for his portrayl of Jimi Hendrix in an upcoming film 'Jimi: All Is By My Side.'
On the same day as Jimi Hendrix arrived in London with just the clothes on his back in 1966, the man portraying him in the Hendrix bio movie, discloses some of the difficulties he faced.
André 3000, whose real name is André Benjamin, might be an odd choice for some to play the guitar legend. André is best known as one-half of the hip-hop duo Outkast, but over the years he has expanded not only his musical horizon but also his musical style.
In an interview with Rolling Stone, André revealed one of the troubles he needed to overcome was learning how to play guitar with his left hand. "Guitar training was strenuous because I'm a right-handed guitar-player. Left-handed is completely opposite. It's like walking backwards." He spent seven months learning how to play left-handed.
Benjamin was also required to lose 1.5 stones to play the guitar legend, "To get that gait, to move in that way, I had to feel that way. I worked out twice a week, and ate just enough calories to keep myself going."
The film focuses on one year in Hendrix's life from 1966-67 as he tries to make his mark in London's music scene.
The biopic was filmed in Dublin last year, if you watch the trailer carefully you can spot some Dublin landmarks such as Dame Lane, The Olympia Theatre, and Eustace Street. "We would kick around the city. It's actually the best job in the world," André said.
Check out the trailer for Jimi: All Is By My Side' below.
The film's producer Danny Bramson said "The idea of anyone playing Hendrix, let alone a right-handed guitarist, was one of the greatest challenges of the project. I found a really patient teacher and put together a regimen for André when he came out to Los Angeles. He sat in a small studio, six hours a day, putting in dedication [to learn how to play left-handed]. His guitarmanship had to carry the idea of grace and fluidity. John and I declared that we didn't want to have the camera cropped on his face and not the guitar. He kept working in a rehearsal room throughout the production."
'Jimi: All Is By My Side' is expected to be released on October 24th.