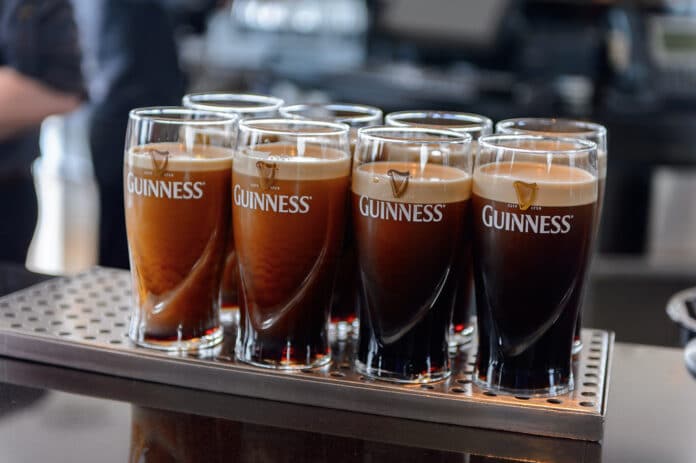 Anyone who has been in Dublin's city centre on a Friday or Saturday evening wil have noticed the gathering crowds on the streets surrounding Grafton Street. The pavements and pedestrianised areas outside pubs and cafes – open for 'takeaways' – seem to be focal points for groups of people. We're only halfway through the Level 5 lockdown and people seem to be overstepping the mark in their search for some social contact.
Things reached a head at the weekend in the area. Video footage of hundreds of people drinking on South William Street and the surrounding streets was posted on social media.
The Level 5 lockdown restrictions still in place allow wet pubs (those that don't serve food) to offer a takeaway service. In reality, few people are in a position to buy a couple of pints and walk or take the bus home, plastic pint glass in hand. Most are going to sup that lovely pint right outside where they bought it, right? Outside some Dublin pubs, socially-distanced queues form. Pints are purchased and brought straight back to the end of the queue. And while the happy customers are enjoying their drinks, they're moving closer to the top of the queue just in time to get that second one in.
The problem is that all this revelry causes crowds to form. The restrictions allow for the sale of the takeaway scoops and they also state as follows: "It is possible to meet with one other household in an outdoor setting, which is not a home or garden, such as a park, including for exercise. No other social or family gatherings should take place." So, technically, if you're only meeting people from one other household and you're having your perfectly legal pint outdoors…
Daniel Smith of Grogan's pub on Castle Street in the city centre was presented with a huge cleanup operation outside his closed pub on Sunday morning. "Eight months closed yesterday. Deemed unsafe to operate by Nphet and Gov. Is this safer?" the publican said on Twitter. He shared the footage of extraordinary scenes from Saturday night outside his premises.
https://twitter.com/GrogansPub/status/1327906286944612352?s=20
Mr Smith told the Irish Times that there had been at least 400 people on the street outside his pub. "You see pubs selling takeaway pints and buying drink in off-licences and coming down here. We had it in June and we have it again now, it has been going on long enough."
Grogan's pub was closed by its owners earlier in the year before it was required to by law, in order to safeguard the public. Mr Smith said that he has had to clean up rubbish, faeces and urine from outside his pub on many occasion while it has remained closed.