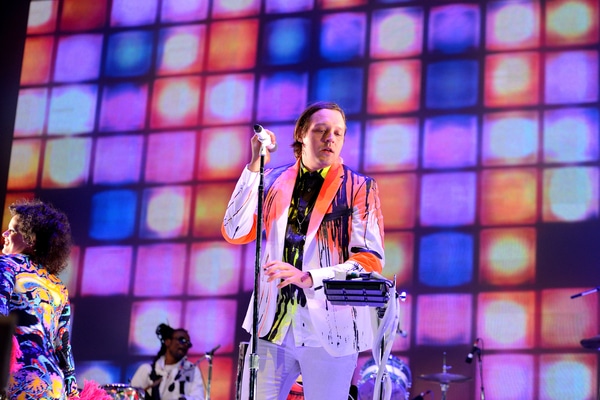 Arcade Fire were joined by David Byrne for a rendition of Plastic Ono Band's Give Peace a Chance at a benefit for Ukraine.
Monday night saw the final of four nightly shows at New York City's Bowery Ballroom to raise money for Ukraine.
Arcade Fire initially announced they would perform on Friday night, with attendees asked to pay whatever they could afford towards the Plus1 Ukraine Relief Fund. The band ended up playing at the venue over the following three nights, with former Talking Heads frontman Byrne joining them on the final night. Shows sold out within an hour of being announced.
You can watch Arcade Fire and David Byrne perform Lennon and Ono's protest song in the video below.
Actor and comedian Mike Myers also appeared on stage during the evening.
"You can have the government you want, but once you lose democracy, you are fucked," Myers told the audience. "And so, for the people of Ukraine, I just want to say keep fighting, we'll support you. Democracy is the way to go. My parents fought the fascists in World War II, this is a real thing. I just want to say, we've all been asleep. We've all been in Covid hibernation. And now ladies and gentlemen – it's time to wake up."
View this post on Instagram
Following their performance at the Bowery Ballroom, Arcade Fire left the venue and continued to perform for fans at the nearby Delancey Street subway station before returning to the venue. The band played a similar benefit show for Ukraine in New Orleans last week.
Last week multi-instrumentalist Will Butler announced that he had left Arcade Fire, having been a member of the band formed by his brother Win since 2004.
"Hi friends— I've left Arcade Fire," he announced on Twitter. "I left at the end of last year, after the new record was complete. There was no acute reason beyond that I've changed—and the band has changed—over the last almost 20 years. Time for new things."
"Thank you to anyone who's come out to AF shows, or bought a record, or loves our music," he added. "It's meaningful to be part of your lives. Thank you to the crew, staff, management, label people, bands, artists, and friends who have helped bring our vision to life for so many years. The band are still my friends and family. I'll be around! See you around!"
Hi friends—
I've left Arcade Fire

— Will Butler (@butlerwills) March 19, 2022
Arcade Fire's latest album, WE, is set for release on May 6th.