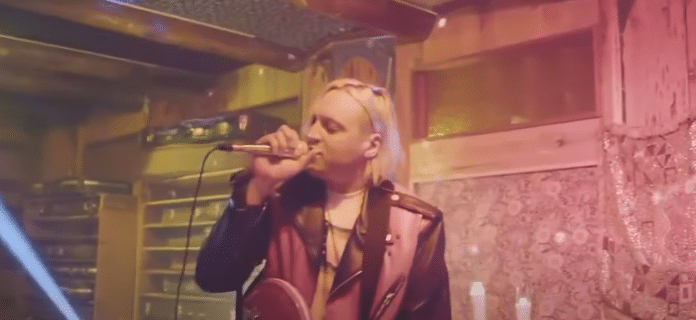 Appearing on the Stephen Colbert Election Night 2020 special, Arcade Fire released their new song called 'Generation A'.
"I don't think they understand that I am not a patient man" sings Win Butler on Arcade Fire's new song. They debuted the politically inspired song on Colbert's show. Butler will have to use some of that patience as the world waits on the confirmation of Biden's victory.
You can check out the new song below.
The Canadian rockers have always used current issues as motivation for their music. The 2010 release of 'The Suburbs' deals with their relationship with climate change and 2017's 'Everything Now' played on the culture of fake news, instigated by Donald Trump.
Their performance was also politically charged. It began with a child in a cowboy hat declaring "This is Generation A, and we're not gonna wait!". The band then began to play the new song, which is an archetypal Arcade Fire song. It has the riffs, the synths and the basslines you would expect from them.
Before the song, host Colbert said "inspired by the current climate of the country, with a hopeful message to the youths" in reference to their new song. With lyrics such as "California's burning and New Orleans is waiting for the flood" it's a clear message to not wait until it's "too little too late". 
The constant screams of "I can't wait" further reinforces the message behind this song, in that, change is needed and needed now.
This is the first original new music the band have released since the aforementioned 2017 album. They also recorded a cover of 'Baby Mine' for the Disney remake of 'Dumbo'.
Back in April, Butler posted a letter on Instagram stating that the band were working on music and that it was coming "eventually, not soon."
In August, the band celebrated the 10th anniversary of 'The Suburbs' with a socially distanced performance of 'Sprawl II (Mountains Beyond Mountains)'.
Various members of Arcade Fire have been busy with solo projects. Will Butler released his third solo album called 'Generations'. While Richard Reed Parry shared his debut film score for the Jude Law film, 'The Nest'.
https://www.youtube.com/watch?v=KvqNWYggnVA