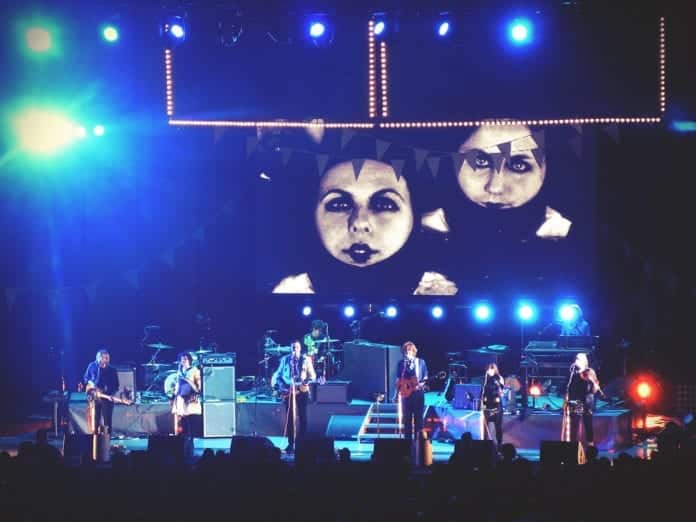 Canadian rockers, Arcade Fire performed in Manchester last week, July 6th. They thanked fans for "not being scared" to attend the gig after the horrific events at the Ariana Grande gig last month.
Frontman Win Butler actually described the crowd as "a fucking inspiration to the rest of the world". This comment came after the band had performed their second song of the night, 'Rebellion (Lies)'.
While playing lots of new tracks including recent single 'Creature Comfort', 'Everything Now', 'Signs of Life' , the band also played lots of older well-known songs. 'Reflektor', 'Ready to Start', 'No Cars Go' and 'Neighbourhood #3 (Power Out)' were all met with a warm response from the crowd.
Covers weren't off limits for the band either as they took on Joy Division's 'Love Will Tear Us Apart, and New Order's 'Temptation'.
Arcade Fire's latest album 'Everything Now' is set to be released at the end of the month, July 28th. It will be the fifth LP release from the lads, and has been a collaborative production. The band teamed up with Daft Punk's Thomas Bangalter, Pulp musician Steve Mackey and Markus Dravs who has produced track for both Mumford & Sons and Coldplay. Production took place between Gang Recording Studio in Paris, Boombox Studios in New Orleans and Sonovox Studios in Montreal.
Arcade Fire have long been considered to be one of the greatest bands around. They released their debut album 'Funeral' THIRTEEN YEARS AGO! They won a Grammy for 'The Suburbs' (2010), being awarded with 'Album of the Year.'