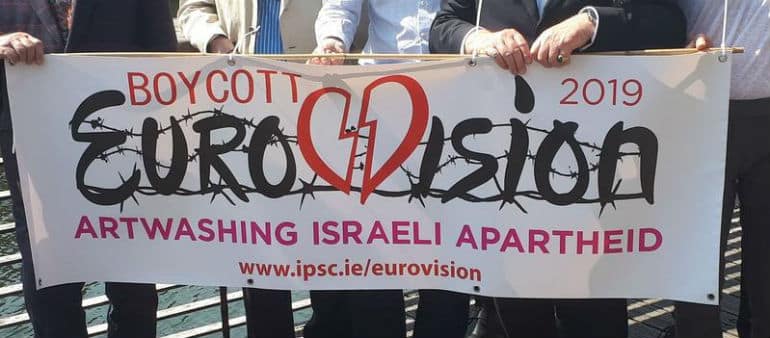 Following Netta Barzilai's victory at this year's Eurovision Song Contest, multiple artists including The Knife, Wolf Alice, Elvis Costello, Paul Brady, Roger Waters as well as previous Eurovision finalists have formed a collective in protesting The Eurovision from taking place in Israel in 2019.
In an open letter to The Guardian, a number of artists have called for a boycott following the news that Israel are expected to host the competition, stating: "Until Palestinians can enjoy freedom, justice and equal rights to all humans, there should be no business-as-usual with the state that is denying them their basic rights." The signatories, which includes a host of musicians, singers, directors, novelists, poets and finalists, added: "We understand that the European Broadcasting Union is demanding that Israel finds a 'non-diverse' location for the 2019 Eurovision. It should cancel Israel's hosting of the contest altogether and move it to another country with a better human rights record. Injustice divides while the pursuit of dignity and human rights unites."
Human rights organisations in Ireland have also called on RTÉ as well as any potential participants to boycott the 2019 Eurovision Song Contest due to Israel's non-compliance with international law and its' occupation of Palestine. A large amount of people have utilized online platforms including Twitter and Facebook to express their anger regarding the Eurovision being held in Israel next year.
Irish artists call for boycott of Eurovision in Israel – A petition set up in support of the boycott has been signed by over 3,500 people. https://t.co/idzR1acotx

— IPSC (@ipsc48) June 27, 2018
https://twitter.com/ruairimckiernan/status/1013358779310772225
The Palestinian Campaign for the Academic and Cultural Boycott of Israel added: "Eurovision organisers have demanded that Israel respect freedom of expression and movement as a condition of hosting the contest. Senior Israeli ministers have outright rejected this, insisting on enforcing Israel's repressive, anti-democratic legislation. Eurovision organizers should heed the calls of Eurovision finalist, presenters, commentators and judges, as the wider community of artists, and move the contest from Israel altogether."