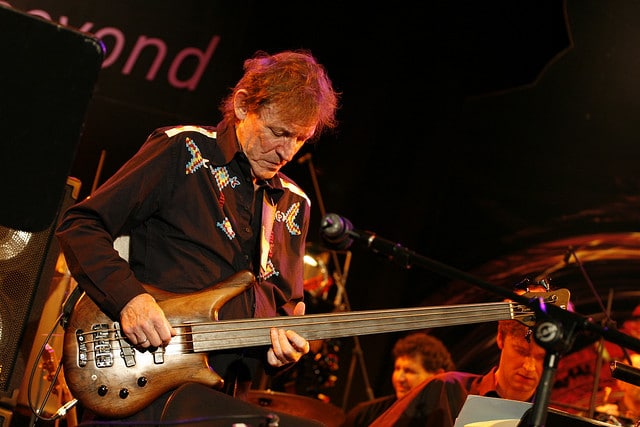 Musicians have been paying their respects to the Cream bassist Jack Bruce, who sadly passed away this weekend aged 71.
Red Hot Chili Peppers' bass player Flea, Steve Jones, Slash, Ringo Starr and many others, have all offered their tributes to the legendary bassist.
Bruce's family issued a statement on October 25th: "It is with great sadness that we, Jack's family, announce the passing of our beloved Jack: husband, father, granddad, and all round legend. The world of music will be a poorer place without him but he lives on in his music and forever in our hearts."
Not only was Bruce a member of the British trio Cream, he worked with several other artists including Lou Reed, Frank Zappa and Ringo Starr's All Starr Band.
Eric Clapton posted on Facebook: "It is with great sadness that we learned that Jack Bruce had passed away this morning at his home in England. 'He was a great musician and composer, and a tremendous inspiration to me."
Clapton also posted an acoustic track online titled 'For Jack'.
Cream's drummer Ginger Baker said: "I am very sad to learn of the loss of a fine man, Jack Bruce… My thoughts & wishes are with his family at this difficult time."
Jack Bruce (1943-2014) was amazing as a member of Cream. Plus his solo record "Things We Like" gave Smif n Wessun the sample for "Bucktown"

— Mark Ronson (@iamMarkRonson) October 26, 2014
We lost Jack Bruce today an incredible musician writer and a good friend peace and love to all his family Ringo and Barbara

— Ringo Starr (@ringostarrmusic) October 25, 2014
#RIP and condolences to family @jackbrucemusic. George played #guitar on his first solo album. http://t.co/xAKb2JGCWq pic.twitter.com/Wot2EvP7AH

— George Harrison (@GeorgeHarrison) October 25, 2014
Jack Bruce – what a gentleman, what a groove ,what a force. You rocked, we'll miss you.

— Cerys Matthews (@cerysmatthews) October 25, 2014
Rest in peace jack Bruce, OG. pic.twitter.com/Zeatg44E9s

— steve jones pistol (@JonesysJukebox) October 25, 2014
Very sad to hear of the passing of Jack Bruce, a major influence in music and an amazing bass player and singer. He was a hero to so many.

— Tony Iommi (@tonyiommi) October 25, 2014
RIP Jack Bruce

— Peter Hook (@peter_hook1) October 25, 2014
RIP to Jack Bruce. #Legend #RIPJackBruce

— Official Motörhead (@myMotorhead) October 25, 2014
We are deeply saddened to hear of the passing of Cream bassist Jack Bruce.

— Abbey Road Studios (@AbbeyRoad) October 25, 2014
Very very sad to hear of Jack Bruce's passing. Amazing musician and inspiration. Rest in peace.

— Wolfgang Van Halen (@WolfVanHalen) October 25, 2014
Sad to hear of Jack Bruce's passing. He was a good friend and a remarkable musician.

— Joe Walsh (@JoeWalsh) October 25, 2014
Just heard the news of Jack Bruce passing; he was a prince of a man. & an icon of his generation, my generation & generations to come. RIP.

— Slash (@Slash) October 26, 2014