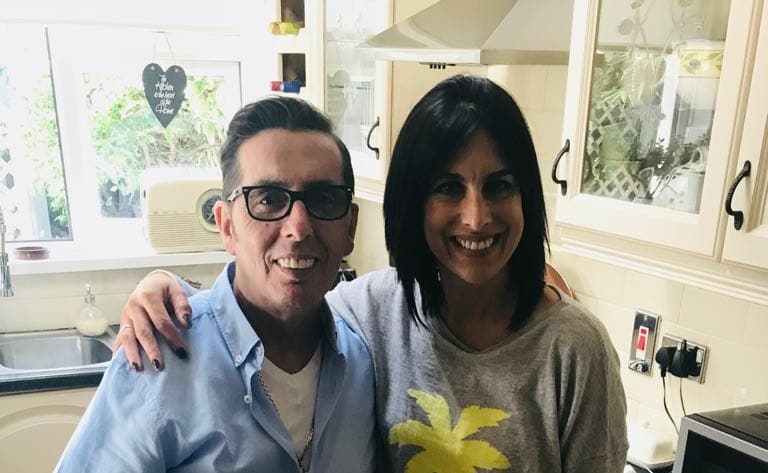 On this week's episode of 'Living with Lucy', Monday at 9pm on Virgin Media One, Lucy goes all Rock n Roll with Aslan's legendary frontman Christy Dignam.
Christy has led the ultimate rock n roll lifestyle…. he famously battled drug addiction but lives a much quieter life now, swapping drugs for Tia Chi.
Christy loves his Tai Chi and he's got Lucy hooked! 9PM Monday Virgin Media One. CHRISTY DIGNAM & LUCY. #livingwithlucy @KennedyLucy @OfficialAslan @ADAREtelly @VirginMedia_One pic.twitter.com/WUJnV3em0S

— ADARE PRODUCTIONS 📺 (@ADAREtelly) September 15, 2018
Now, he's in a battle with cancer but that doesn't slow him down and Lucy is hard pressed to keep up with the Aslan frontman, both physically and verbally.
The Dubliner bears his soul and tells how he:
Hasn't slept for more than an hour at a time since his 2013 diagnosis
Had a defibrillator fitted in his chest because his heart stopped
Almost died after catching a
cold that shut down his immune system, and
Contemplated suicide when his drug habit took him to rock bottom.
Lucy gets to experience her first Aslan gig when she accompanies the band to a sold out gig in Limerick.  
Lucy moves in with music legend Christy Dignam of Aslan Monday night in all new #LivingWithLucy at 9pm on Virgin Media One! pic.twitter.com/IZvOpOVfq1

— Virgin Media Television (@VirginMedia_TV) September 15, 2018
The Irish Mirror says the Crazy World singer revealed he's now pals again with U2's Bono after the pair fell out over an interview in which he seemed to criticise the band.
Christy says: "We had a row years ago when we got signed. Any interview we'd do was always, 'Do you live near U2? Youse are from Finglas, U2 are from Finglas'. I went into a little tirade. I said, 'Hold on he wasn't born where I was born, he wasn't reared where I was reared, they sing about Ballymun but we're living it'.
"They printed the rant and didn't write anything about Aslan. U2 were in the States and sent a telegram asking us, 'Why the f**k are you bad- mouthing us in the press? I tried to explain… but there was a bit of a vibe for years. But when I was sick, Bono came up to the house. Ali sent us stuff. He came up and we were talking, next thing he came running in with his iPad and started playing songs off the new album and asking me what I thought of them. I thought it was lovely."
9pm MONDAY. Living With Lucy & Christy Dignam. The Man Bag Controversy.. #livingwithlucy @VirginMedia_One @KennedyLucy @ADAREtelly @OfficialAslan pic.twitter.com/PtuovCkNC8

— ADARE PRODUCTIONS 📺 (@ADAREtelly) September 15, 2018
Living With Lucy is on Virgin Media One Monday's at 9pm.