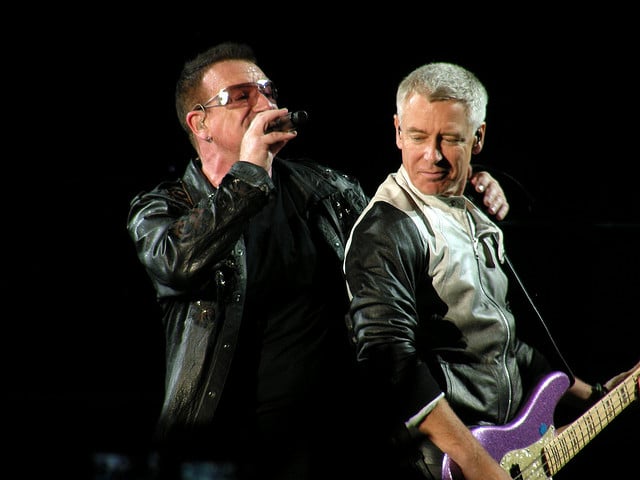 Last night U2 performed on Later With Jools Holland, unfortunately for one of the musicians speaking with Bono, he opened his mouth without thinking first.
Joining the Irish rockers on the show were New York rock trio Interpol, singer Sam Smith, American singer-songwriter Zola Jesus and garage punk duo Slaves.
U2 played tracks from their 13th album Songs Of Innocence, performing their song 'Volcano' for the first time live. Bono and The Edge also performed a pretty stunning version of 'Every Breaking Wave'.
It has been a long ambition of Holland's to have the Irish band perform on the show, stating in the past "that would be great" to have U2 on the programme.
The uncomfortable moment happened between Bono and singer-drummer Isaac Holman from the band Slaves. Bono came up to congratulate the duo on their performance and without thinking Holman replied to the Irish singer.
Slaves wrote on their Facebook page: "Bono came up to me after our performance yesterday, he shook my hand and said "You were great in there man." And without thinking I just responded saying "Cheers mate U2." Realising what I'd just done I began to laugh. Bono didn't laugh. Bono walked away. Might as well just give up now."
Watch U2 performing 'Every Breaking Wave' below.
Watch U2 performing 'Volcano' below.
The BBC have announced that the following week's episode will feature Robert Plant, Tune-Yards, Counting Crows and Years & Years.
Earlier this week Songs Of Innocence charted at Number two on the Official Irish Albums Chart following its 'free' release on iTunes in September.
The album was released physically on October 1oth, it entered the IRMA charts behind Bray singer Hozier. U2's manager, Guy Oseary, hailed it as a success considering how many people had access to the album for nothing.
Watch the rocking duo Slaves on Jools Holland below.