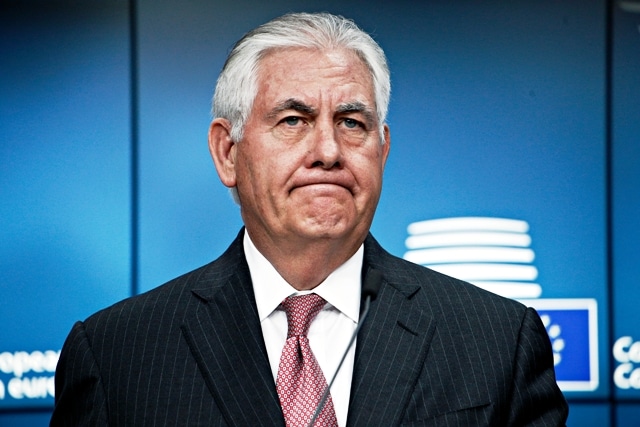 The former Exxon chief Rex Tillerson has been sacked by Donald Trump. He is to be replaced by the CIA director Mike Pompeo.
In a tweet, President Trump thank Tillerson for his service and hailed the appointment of Gina Haspel as the first woman to become the director of the CIA.
The Washington Post reported that Trump asked Tillerson to step aside last Friday. The pair are widely reported to have clashed on a wide-range of issues over the past year, with US media having repeatedly suggested Tillerson's time in the role was limited.  The US President announced the surprise move on Twitter, and says Rex Tillerson will be "much happier now".
Mr Tillerson – who had no previous government experience – was one of Donald Trump's most notable and surprising major cabinet appointments.
After his appointment Tillerson confessed he was 'stunned' to have been offered the job. He observed: "I didn't want this job. I didn't seek this job […] My wife told me I'm supposed to do this."
The ousting comes ahead of the planned meeting between President Trump and North Korean leader Kim Jong Un, one of the most high-profile and politically fraught US diplomatic events in recent history.
The change represents the biggest shakeup of the Trump Cabinet so far and had been expected since October when reports surfaced about a falling out between Trump and Tillerson.
Mr Tillerson had returned from a shortened trip to Africa hours before Mr Trump's announcement, which offered no explanation for the change.
Mike Pompeo, Director of the CIA, will become our new Secretary of State. He will do a fantastic job! Thank you to Rex Tillerson for his service! Gina Haspel will become the new Director of the CIA, and the first woman so chosen. Congratulations to all!

— Donald J. Trump (@realDonaldTrump) March 13, 2018