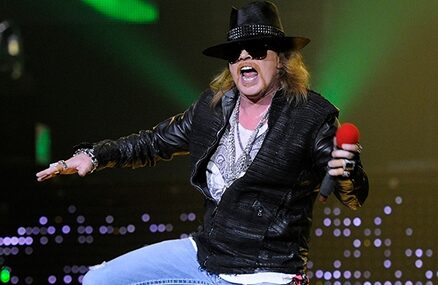 The Guns n Roses legend is at it again. Last week we reported Axl Rose's dismay of the Red Hot Chilli Pepper's miming incident at the Superbowl half time show, he took to the twitter machine to express his feelings on the incident.
"Maybe they all had microchips installed in their asses and not only pick up the frequencies of their instruments but get Direct TV and the Internet, too!"
Now he's at it again, this time speaking on the Danish Giraffe Killing controversy that has been in the news this week.
"Just enjoying the lion's share of some tasty baby Giraffica sliders! Mmmmm!" he wrote. "What'll them crazy Danes think of next! But seriously, let me get this straight. . . . The Danes killed a 2 yr old baby giraffe, chopped it up n' fed him to the lions (allegedly in front of kids) to avoid inbreeding rather than find a place for it. Maybe this is a big problem over there, I don't know, but I'm not getting how this deters siblings n' various other assorted Danish family members from fuckin' each other?! J/k :)☺."
I have to say I quite enjoy his comments, he is well able to articulate his feelings in a well organised and funny manner, maybe Axl should take up writing as a profession when he decides to give up the rock and roll lifestlye.
However this will not be anytime soon as Guns n Roses are planning to tour again in 2014. A message on their website says:
"In 2014 Guns N' Roses are setting up tour plans in 2014 beginning with a return to South America for multiple dates in the spring. The start of the trip south begins with headlining the second night of the Hell & Heaven Metal Festival in Mexico City".
See tour dates below:
Sunday, March 16 Mexico City, Mexico
Thursday, March 20 Rio De Janeiro, Brazil
Saturday, March 22 Belo Horizonte, Brazil
Tuesday, March 25 Brasilia, Brazil
Friday, March 28 Sao Paulo, Brazil
Sunday, March 30 Curitiba, Brazil
Tuesday, April 1 Florianapolis, Brazil
Thursday, April 3 Porto Alegre, Brazil
Sunday, April 6 Buenos Aires, Argentina
Wednesday, April 9 Asuncion, Paraguay