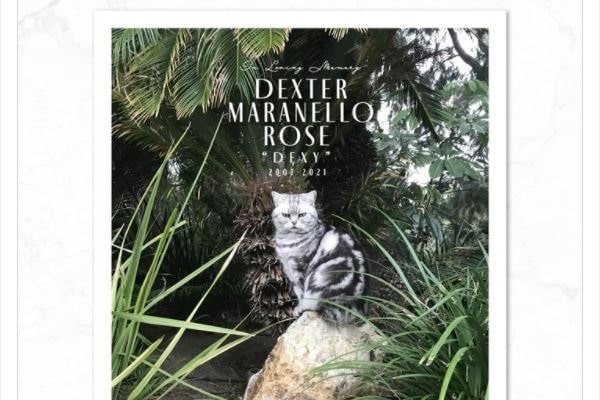 Guns N' Roses frontman, Axl Rose has thanked fans for their kind words following the recent death of his 14-year-old cat, Dexter Maranello Rose. Taking to Twitter to announce the sad loss, the rocker shared a photo of the black-and-grey tabby cat posing outdoors atop a rock.
Many of his 1.2 million Twitter followers commented to offer their condolences and share their own stories and memories of their much-loved pets. Returning to the platform more recently, Axl witnessed the outpour of support from his beloved fan base and thanked them.
"Thank you to everyone for all the kind words n' support w/Dexy's passing, it means a lot," Axl wrote. "N' thank you to all the animal lovers who shared their stories of losing a friend/family member. Good friends r hard to find n' we're all lucky when we find them (or they find us!)"
Axl, whose profile picture on Twitter is a French bulldog puppy, had reportedly owned several other cats prior to Dexter, including Dijon and Whiskey. In a 2012 interview with USA Today, the rocker claimed he owned a zoo, saying: "My animals are my buddies. They need lots of love and attention."
On October 4th, Axl and his Guns 'N' Roses bandmates performed their final appearance of the We're F'n Back tour at the Seminole Hard Rock Hotel & Casino in Hollywood, Florida. The tour came hot on the heels of the Not In This Lifetime tour, which began in April 2016 and became the third highest-grossing tour in the history of Billboard Boxscore.
Much like the Not In This Lifetime tour, the latest Guns N' Roses tour also featured the classic-lineup. Original members; Slash (guitar), Duff McKagan (bass) and Axl, had been backed by guitarist Richard Fortus, drummer Frank Ferrer, keyboardist Dizzy Reed and second keyboardist Melissa Reese.
— Axl Rose (@axlrose) November 17, 2021
Thank you to everyone for all the kind words n' support w/Dexy's passing, it means a lot. N' thank you to all the animal lovers who shared their stories of losing a friend/family member. Good friends r hard to find n' we're all lucky when we find them (or they find us!)🐾👑

— Axl Rose (@axlrose) November 20, 2021