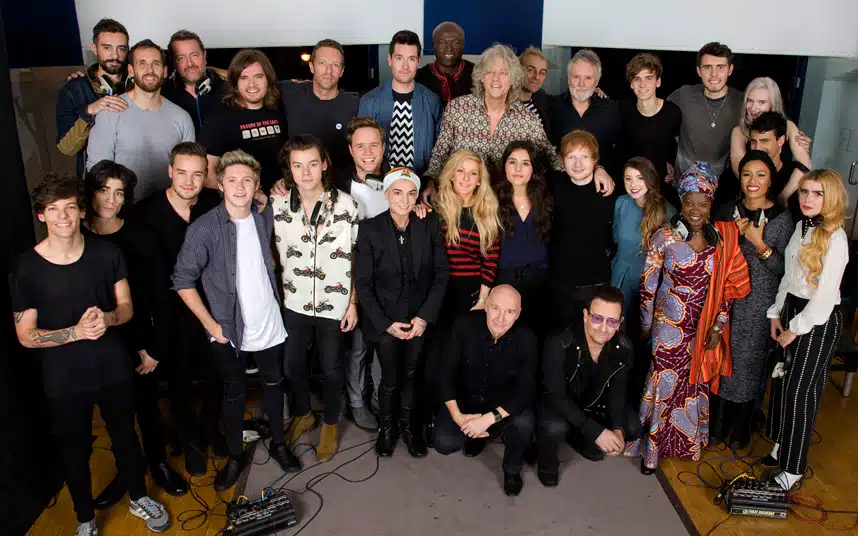 The Band Aid 30 single 'Do They Know It's Christmas?' has gone straight to Number One in this week's Official Irish Singles Chart.
The charity song reportedly raised €1 million in the first five minutes of being released on iTunes.
Musicians such as Coldplay's Chris Martin, Ed Sheeran, Sam Smith, Queen's Roger Taylor, Elbow, Sinead O'Connor and Bono all feature on the single.
All the money raised from sales of the track will go towards the fight against Ebola in Africa.
Speaking with BBC Radio 4, the Boomtown Rats frontman admitted he was apprehensive about how the track would fair. Geldof said he was "a bit nervous" before its release, but conceded that he was overwhelmed by the reaction of  'Do They Know It's Christmas' (2014)  describing the first few hours as "bonkers" and "extraordinary."
Geldof said: "From what we've seen from iTunes it's gone bonkers. Within four or five minutes we had a million quid. I love living in this country at moments like this."
It appears Bob's doubts are completely unfounded, a spokesman for the Official Charts Company said: "Band Aid 20 sold 200,000 each week for its first four weeks on sale – can Band Aid 30 keep up its sales momentum and beat its predecessor?
"It's possible – a physical version is set to be released in December, which means the track is still a serious contender for 2014's official Christmas number one."
The Band Aid 30 single is available to buy on iTunes, the physical release is due out on December 8th, it will feature remixes from various artists.
There is also a Band Aid 30 app available to download called BandApp. It allows fans to get a behind-the-scenes look at the recording of the new 'Do They Know It's Christmas?' track.
The app is free to download but it will offer a a pay section, to gain access to exclusive Band Aid 30 content, with all the proceeds going towards the Band Aid Trust.
Watch the official video for  'Do They Know It's Christmas? (2014)' here.