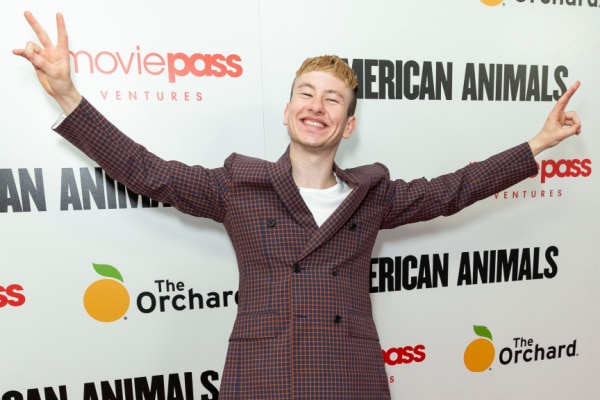 Would you like to listen to the article instead of reading it?
Barry Keoghan can be spotted dressed for battle in the first images shared of the upcoming World Ward II drama, 'Masters Of The Air'.
Arriving next year, the series will see Keoghan star alongside fellow Irish actor, Anthony Boyle, who has previously starred in the West End show, 'Harry Potter And The Lost Child'.
Boyle will play Major Harry Crosby in the series.
Keoghan (Below) can be spotted wearing wool-lined coats, and a khaki green and brown pilot hat, staring into the distance, with a serious expression on his face.
'Masters Of The Air' will explore the lives of the 100th bomb group, aka 'The Bloody Hundredth', who conducted bomb raids over Nazi Germany, while battling lack of oxygen, awful weather conditions, and terror of air combat.
Latest Keoghan Project A"salute to the brave men"
Alongside Keoghan, and Boyle, it will also star Elvis actor Austin Butler. Other actors Rafferty Law, Josiah Cross, Nate Mann, and Branden Cook will also feature.
The series is based on Donald L Miller's book of the same name. The book was also scripted by John Orloff.
'Masters Of The Air' will also see Tom Hanks, Gary Goetztmann, and Steven Spielberg as executive producers.
"Masters Of The Air is a salute to the brave men of the 8th Air Force, who, through their courage and brotherhood, helped defeat Nazi Germany in the Second World War", Gary Goetzmann said.
"Tom and Steven have always wanted to visualise cinematically what our author Don Miller has called, this 'singular event in the history of warfare', he added.
"We're thrilled that Apple TV+ has given us the opportunity to combine the efforts of so many talented people, on-screen and behind the camera, to tell this important story".
'Masters Of The Air' will air on Apple TV+ on Friday 26 January 2024.
Barry Keoghan won a Bafta, and was nominated for an Oscar for his performance in 'Banshees of Inisherin', earlier this year.