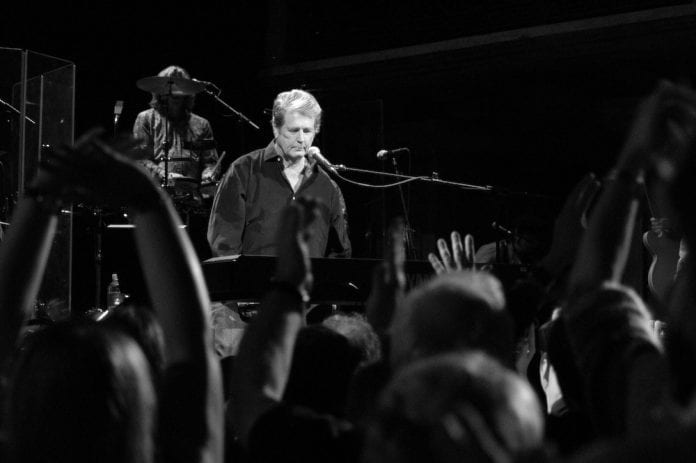 Beach boy fans are in for a treat. Brian Wilson is set to return to Ireland this summer with his 50th Anniversary Pet Sounds Tour.
The Beach boys frontman will perform the iconic album in its exact running order – followed by a set of the best of Brian Wilson and Beach Boys material, during which he'll be joined by  Al Jardine and Blondie Chaplin.
Watch the 74 year old perform "Wouldn't It Be Nice" during a Pet Sounds 50th Anniversay concert in Grand Prairie, Texas here.
Pet sounds was the eleventh studio album for the beach boys. The album was produced and arranged by Brian Wilson, who also wrote and composed almost all of its music. It was an innovative record of its time because of its new approach to recording. At one stage before the record dropped, Capitol Records contemplated not releasing the record at all. It peaked at no 2 in the UK Top 40 Charts.
Collaborating with lyricist Tony Asher Wilson's symphonic arrangements wove elaborate layers of vocal harmonies, coupled with sound effects and unusual instruments such as bicycle bells, , buzzing organs, harpsichords, flutes, Electro-Theremin, trains, Hawaiian-sounding string instruments. Cova-cola cans, and barking dogs, along with the more usual keyboards and guitars
Rolling Stone ranked it second on its list of the 500 Greatest Albums of All Time, stating, "With its vivid orchestration, lyrical ambition, elegant pacing and thematic coherence, Pet Sounds invented – and in some sense perfected – the idea that an album could be more than the sum of its parts."
In a separate gig, a different version of The Beach Boys – featuring Mike Love, but not Wilson, Jardine or David Marks – will also play the Bord Gais Energy Theatre on May 21st.
Tickets are priced €75.00 – €89.00 and will go on sale nest Thursday, 23 February at 9am from usual outlets.
Picture Credit: Chris Boland