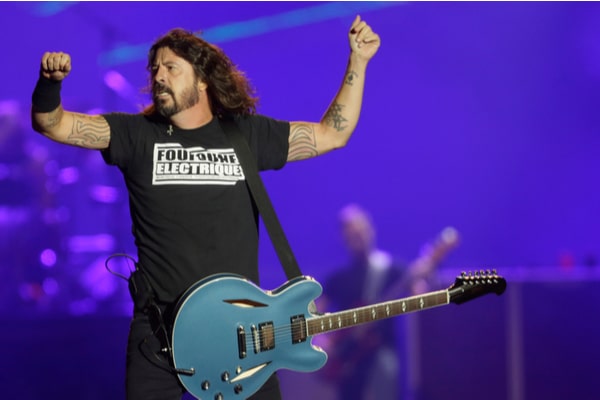 Dave Grohl has said that he would be open to drumming for ABBA. The Foos frontman also admitted that he "wept like a baby" when he heard that the iconic band were reuniting.
ABBA confirmed back in August they they would be reuniting for a new virtual show, as well as releasing new music for the first time in 40 years. More on that here.
The band have released "I Still Have Faith In You" and "Don't Shut Me Down".
"Oh my god, I'm such a big ABBA fan"
Speaking to BBC News, Grohl who has previously hailed ABBA as a major influence on his career, gave this reaction to band's return after 40 years in hiatus.
"Oh my god, I'm such a big ABBA fan", he said. "When I saw that they were coming back and they had a record, I shot that link to 100 people I knew, then listened to the new song and wept like a baby. I cried like a baby. Oh man!". 
The former Nirvana drummer explained what it was about the new ABBA tracks that touched him so much emotionally.
"It almost sounded like time hadn't passed", he said. "Plus it was such a beautiful, romantic, melancholy, bitter-sweet retrospective".
He continued, "Ugh, it's amazing. ABBA can do no wrong". 
"I will sit down to it" – Grohl on drumming for ABBA
Grohl also said that he would even be open to drumming for ABBA.
"Listen, I will get up and play drums at the opening of an envelope. Show me a drum set and I will sit down to it", he stated.
"So yes, I would play with ABBA". 
Last month, Dave Grohl also reflected on writing his own memoir in a new trailer for his upcoming life story, the Storyteller.
Set for release on October 5, the memoir has been described as "a collection of memories of a life lived loud". 
On writing his own memoir, Grohl had this to say.
"I've never really been one to collect stuff, but I do collect moments", he revealed. "My life flashes before my eyes every single day and in writing this book I've tried to capture those moments as best I can". 
Check out what else Grohl had to say here.