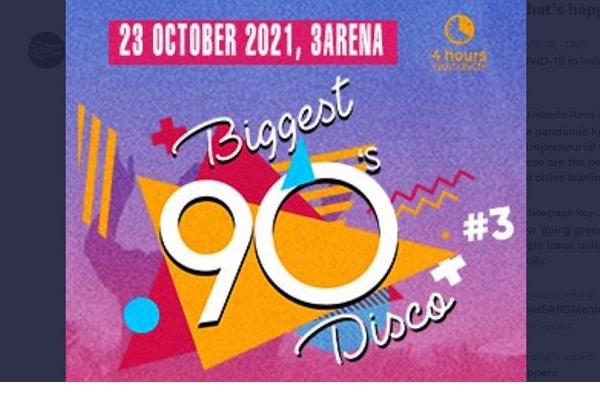 It has been confirmed from the organisers of the Biggest Disco 90s that their event will take place in Dublin's 3Arena this weekend.
They also confirmed that it will coincide with the Government guidelines announced yesterday.
This comes after the Taoiseach confirmed yesterday that nightclubs will reopen this Friday as planned.
He also confirmed that these clubs will reopen at full capacity with restrictions. These include wearing masks  "except when eating, drinking and dancing", vaccine passes, and collection of contact tracing details.
Micheál Martin had added that further details including events such as Dublin's 3Arena will be published in the coming days.
He said, "The key overall point that NPHET is making – that we agree with – is that the protective measures have to involve masks, physical distancing and ventilation mitigation measures".
"Now that is where appropriate. It is the appropriate use of all of these, is how NPHET terms it in the letter to Government. Obviously, there are practicalities involved in different sectors and those have to be worked out, as we have done in the past, through sectoral guidance". 
The Taoiseach also reiterated the message to those who have not been vaccinated.
"Crucially, if you have not been vaccinated or if you have not yet had your second vaccination. Please make arrangements to get fully vaccinated", he said.
More on this report from Nova here.
3Arena Event Changes
The changes to the Dublin's 3Arena event are as follows.
This will now be a fully seated event. All standing tickets will be exchanged to seating tickets on a first come, first served basis on the evening of the 23rd October.
Entry to event requires proof of ID with COVID vaccine certification.
Please note, to facilitate checks and ticket exchanges, doors will now open from 5.30pm.
There are tickets are still available from Ticketmaster.
The organisers of this event at the 3Arena have also wished everyone a safe and enjoyable event this weekend.