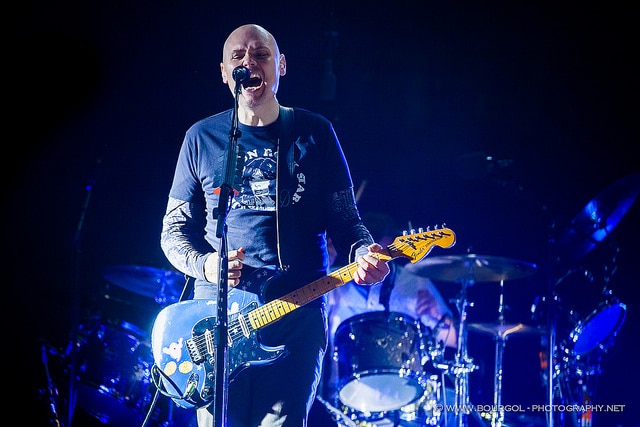 Smashing Pumpkins lead singer Billy Corgan has announced the birth of his second baby on Instagram. Corgan made the announcement on Tuesday, Oct. 2nd. Although he kept his partner, Chloe Mendel's pregnancy a secret, he was overjoyed to share the news now that his newly arrived daughter came into the world.
"Please welcome PHILOMENA CLEMENTINE CORGAN, the latest addition to our family!" wrote the rocker on Instagram. "Pictured here with her brother, Augustus Juppiter, this makes 8, counting Chloe, Angelface, Diamondbaby, Chin Chin, Ling Ling and yours truly. I"m so lucky to have a great partner in @chloemendel, who juggled raising our son, pregnancy with Philomena, whilst building her fashion line (@maisonatia) and navigating my being gone so much with SP in 2018. Oh, and then there's wrestling!! What a year! @pawschicago @smashingpumpkins @nwa"
Corgan's partner, Mendel, also shared the news of the birth on her own account, captioning the same photo, overlaid with hearts and her kids' names, "Our dumplings. @williampcorgan xo."
https://www.instagram.com/p/Bob_hvQFcBA/?utm_source=ig_web_copy_link
Depsite the fact that Corgan will undoubtedly be busy looking after his new daughter, he is also getting ready the release of the Smashing Pumpkins' eight-track reunion album, Shiny and Oh So Bright, Vol. 1 / LP: No Past. No Future. No Sun., which is due out on Nov. 16 through Napalm Records.