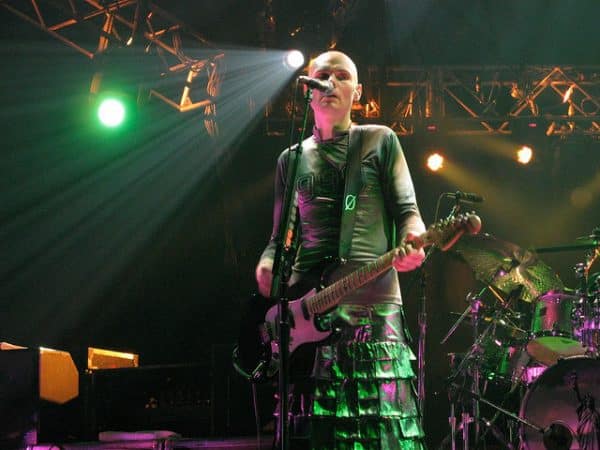 We've all heard of a band putting out a concept album, but it's not very often a group describes themselves as a concept band.
That's exactly what frontman Billy Corgan has said about Smashing Pumpkins, claiming they're "less of a band and more of a concept" these days.
The singer made the statement in regards to the sound of the Pumpkins' upcoming albums, as well as chatting about their touring plans.
Monuments to an Elegy is the tenth studio album from the group and is expected to be out on December 5th.
It will be the first album release from the rockers this year and will be followed by a second record as part of the Teargarden By Kaleidyscope mega collection, which will comprise of 44 songs.
Last week, they released the single 'Being Beige (World's On Fire)', taken from the band's upcoming LP. It's the first Pumpkins record since the departure of drummer Jimmy Chamberlin. Veteran rocker and founding member of Mötley Crüe Tommy Lee, fills in to play drums for the new track.
Speaking to Gigwise, Corgan said: "It's interesting about Monuments To An Elegy is that every song is pretty different. Really, it's sort of like the best of that kind of song. Some people says it reminds them of all of the Smashing Pumpkins [records] mashed together. I don't totally agree with that but I get what people see in that. So 'Being Beige' is kind of this epic, yearning song – but we've got rockers on there, some sad ballads, we've even got some disco. We got it all."
Discussing the band's future European tour: "The Pumpkins these days, we don't really consider it a band any more, it's more like a concept. If we were going to come over next summer and do a festival run, we'd maybe just put together a band for that, so that's just kind of the approach we're taking these days."
Listen to the new Smashing Pumpkins tune 'Being Beige (World's On Fire)' below.
Monuments to an Elegy track list:
01. Being Beige (World's on Fire)
02. Anti-Hero
03. Tiberius
04. Run to Me
05. One and All
06. Drum and Life
07. Dorian
08. Monuments
09. Anaise