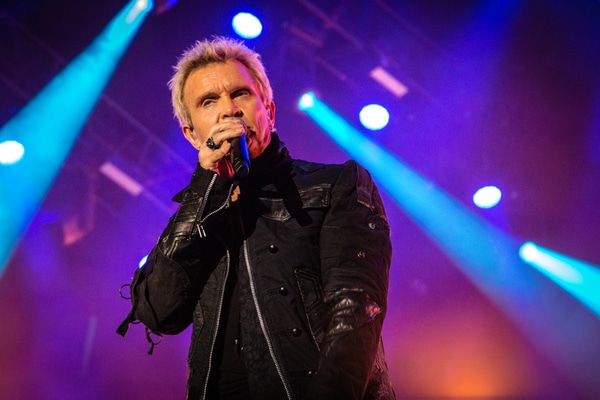 Billy Idol has pulled out of the third "Above Ground" Benefit Concert after catching the "respiratory cold".
Idol had been scheduled to perform at a star-studded event in Los Angeles last night (December 20). The event raises awareness for mental health for MusiCares.
This event saw artists like Corey Taylor of Sliplnot, Taylor Hawkins, Perry Farrell of Jane's Addiction, and Sugar Ray's Mark McGrath.
These artists covered songs from albums including Lou Reed's "Transformer" and the Sex Pistols' "Never Mind The Bollocks, Here's The Sex Pistols".
"don't have a voice to sing"
Releasing a statement, Billy Idol also had this to say.
Thank you all for understanding and i'll see you soon. – BFI@AboveGroundOrg pic.twitter.com/qg2AueFC0U

— Billy Idol (@BillyIdol) December 20, 2021
Idol continued,, "Unfortunately I've caught a respiratory cold going around this week (I have tested negative for Covid twice) – and while I had truly hoped I would get better enough to perform at the Above Ground benefit at The Fonda Theatre tonight, I simply don't have a voice to sing with and so regrettably I am going to have sit this one out". 
He also added, "I was so looking forward to playing some Lou Reed and PISTOLS classics with my mates Billy Morrison and Dave Navarro in support of such a worthy cause. MusiCares is one of the most vital organizations we have, doing hugely important work on behalf of so many of us in the music community. I'm truly sorry to miss the gig tonight, thank you for understanding everybody and I'll see you soon". 
Idol Shares Experiences Of Drug Addiction Recovery
Last month, Billy Idol also spoke about his experiences with recovering from drug addiction.
Idol's drug addiction spiralled out of control. This led to an incident back in 1990, which saw him crashing his motorcycle whilst under the influence of drugs. He suffered a broken arm and leg.
He also said, "I'd had the motorcycle accident because I was a drug addict, and I had to cure that. And it took a long time". 
"I mean, I'm not 100 percent. But I stopped the hard stuff, and I don't drink much – things like that. I had to solve this problem about myself with the drug addiction, and that's what was happening to me in the hospital bed – I was kind of realizing I was going to face up to the thing that I hadn't quite faced up [to] that had been kind of ruling my life for about 10 years".