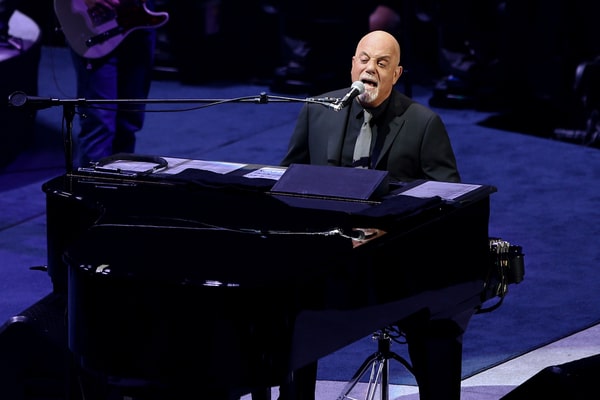 Billy Joel has paid a special tribute to Gary Brooker by covering Procol Harum's "A Whiter Shade Of Pale". You can check it out below.
Billy Joel shared this cover of the track during his live performance at Las Vegas' Allegiant Stadium over the weekend (February 26). Brooker passed away last week.
"A Whiter Shade Of Pale" was Procol Harum's self-titled album. It is one of the most commercially successful albums in history, selling over 10 million copies worldwide.
Billy Joel has been a long term admirer of the track, having covered the songs several times over the years. He covered the song during a Cincinnati gig in 2021.
Joel even released a live cover during a Town Hall Q&A and concert with Howard Stern in 2014.
Joel had already paid tribue to Brooker by singing "Only The Good Die Young". 
Billy Joel pays tribute to Gary Brooker of Procol Harum with "A Whiter Shade of Pale." Just one song of a loaded 2.5 hour set at @AllegiantStadm #Vegas #BillyJoel #ProcolHarum @billyjoel pic.twitter.com/2pyX3cveRM

— Rob Kachelriess (@rkachelriess) February 27, 2022
This latest cover released by Joel comes just months after the singer had released an early recording of her song "New York State Of Mind".
This was recorded live in 1975 at San Francisco. It also predated the release of a 1976 album called Turnstiles. More on this here.
Joel Pays Tribute To Brooker
Taking to social media, the Piano Man singer paid a special tribute to Gary Brooker upon hearing the news of his passing.
"Sorry to hear about the passing of Gary Brooker", he wrote. "Rest in Peace". 
Sorry to hear about the passing of Gary Brooker.
Rest in Peace.
– Billy Joel

[Pictured: Gary Brooker, founder and lead singer of Procol Harum] pic.twitter.com/C2VbXjviHA

— Billy Joel (@billyjoel) February 22, 2022
Brooker's death had beem confirmed via an official statement posted on Procol Harum's website.
They called Brooker "a brightly shining, irreplaceable light in the music industry". The band also said that Brooker"exhibited and developed a highly individual talent".
Procol Harum also added, "Gary's voice and piano were the single defining constant of Procol's 50-year international concert career. Without any stage antics or other gimmicks he was invariably the most watchable musician in the show".  
"He was above all a devoted and loyal husband to Franky, whom he met in 1965 and married in 1968″.