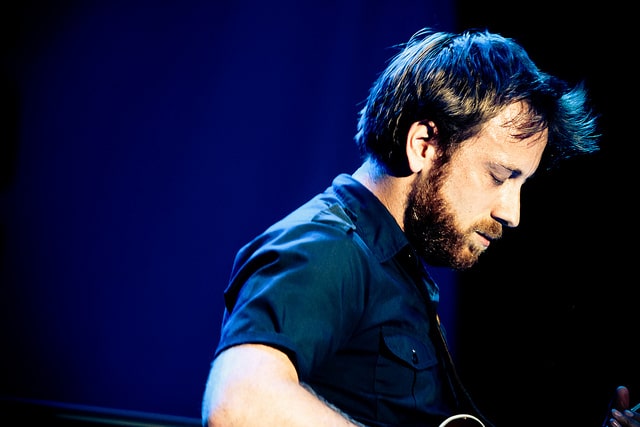 Dan Auerback of The Black Keys has teamed up with Action Bronson and producer Mark Ronson for the track 'Standing in the Rain'.
The highly anticipated 'Suicide Squad' hits cinemas this Friday and while it's cast list features big stars like Will Smith, Jared Leto and Margot Robbie, it's soundtrack is equally just as impressive.
The latest track to be revealed comes from the unlikely collaboration of Auerback and rhyming surname friends Bronson and Ronson. 'Standing In The Rain' is a soulful hip-hop sample of Oran "Juice" Jones 1986 classic 'The Rain'. Auerbach's signature bluesy vocals lead the song backed by Ronson's production and Bronson's distinct verse.
The song premiered on Apple Beats 1 with Zane Lowe – you can check out a short clip here.
Speaking about the track Ronson told Zane Lowe, "Bronson's verse is insane on it, I love it. It never had a home. We didn't finish it in time for Bronson's record, it wasn't right for mine, and then they heard it for the movie 'Suicide Squad'. They dug it and they put it in this great scene with Will Smith and his character"
The soundtrack features other artists such as Twenty One Pilots and Imagine Dragons while Panic At The Disco will cover Queen's 'Bohemian Rhapsody'.
Suicide Squad Tracklist 
Skrillex & Rick Ross – Purple Lamborghini
Lil Wayne, Wiz Khalifa, & Imagine Dragons ft. Logic, Ty Dolla $ign & X Ambassadors – Sucker For Pain
Twenty One Pilots – Heathens
Action Bronson & Dan Auerbach ft. Mark Ronson – Standing In The Rain"
Kehlani – Gangsta
Kevin Gates – Know Better
Grace ft. G-Eazy – You Don't Own Me"
Eminem – Without Me
Skylar Grey – Wreak Havoc
Grimes – Medieval Warfare
Panic! At The Disco – Bohemian Rhapsody
War – Slippin' Into Darkness
Creedence Clearwater Revival – Fortunate Son
ConfidentialMX ft. Becky Hanson – I Started a Joke
Photo Credit: MelanieLevi