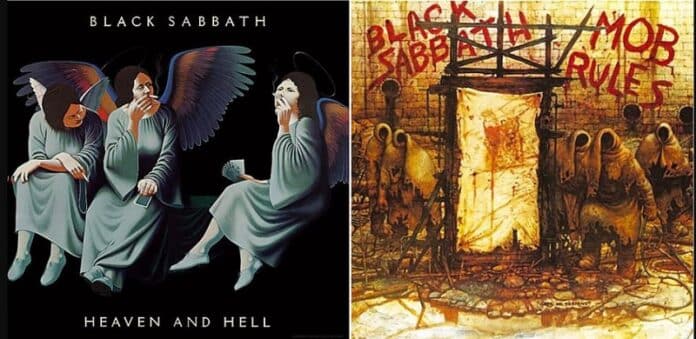 Black Sabbath have released rare and unheard live versions of 'Heaven and Hell' and 'The Mob Rules' from the upcoming reissues of their two albums of the same name.
These albums released in the Eighties were the only two albums to feature the late Ronnie James Dio as Black Sabbath's frontman.
Dio replaced Ozzy Osbourne in 1979 after Osbourne's substance abuse proved too much for the band. With Dio, Black Sabbath released 'Heaven and Hell' in 1980 and 'The Mob Rules' in 1981. Once Dio left Sabbath, the band went through a string of different singers.
The performance of 'Heaven and Hell' is a rarity previously released only in Europe in 1980 as the B-side to the band's 'Die Young' single. The rendition of 'The Mob Rules' comes from a previously unreleased April 22nd, 1982 concert at the Portland Memorial Coliseum.
The new reissues will be released on March 5 and can be pre-ordered here. You can listen to both songs and see the full track lists below.
Black Sabbath also have more new reissues coming soon. For more information, read Radio Nova's report here.
Heaven and Hell Reissue track list
Disc One: Original Album (2021 Remaster)
1. "Neon Knights"
2. "Children of the Sea"
3. "Lady Evil"
4. "Heaven and Hell"
5. "Wishing Well"
6. "Die Young"
7. "Walk Away"
8. "Lonely Is the Word"
Disc Two: Bonus Tracks
1. "Children of the Sea" – Live B-Side of "Neon Knights" *
2. "Heaven and Hell" – Live B-Side of "Die Young" *
3. "Lady Evil" – 7" Mono Edit (unreleased on CD)
Hartford Civic Centre, Hartford, CT (August 10, 1980)
4. "Neon Knights" *
5. "Children of the Sea" *
6. "Heaven and Hell" *
7. "Die Young" *
Hammersmith Odeon, London (Dec 31, 1981- Jan 2, 1982)
8. "E5150"
9. "Neon Knights"
10. "Children of the Sea"
11. "Heaven and Hell"
The Mob Rules Reissue track list
Disc One: Original Album (2021 Remaster)
1. "Turn Up the Night"
2. "Voodoo"
3. "The Sign of the Southern Cross"
4. "E5150"
5. "The Mob Rules"
6. "Country Girl"
7. "Slipping Away"
8. "Falling Off the Edge of the World"
9. "Over and Over"
Bonus Tracks
10. "The Mob Rules" – Heavy Metal Soundtrack Version
11. "Die Young" – Live B-Side Of "Mob Rules" 7" *
12. "The Mob Rules" – New 2021 Mix **
Live At The Hammersmith Odeon London (31/12/81 – 2/1/82)
13. "Country Girl"
14. "Slipping Away"
15. "The Mob Rules"
16. "Voodoo"
Live At Portland Memorial Coliseum, Portland, OR, April 22, 1982
17. Intro **
18. "Neon Knights" **
Disc Two: Bonus Tracks – Live At Portland Memorial Coliseum, Portland, OR, April 22, 1982
1. "N.I.B." **
2. "Children of the Sea" **
3. "Voodoo" **
4. "Black Sabbath" **
5. "War Pigs" **
6. Drum Solo **
7. "Iron Man" **
8. "The Mob Rules" **
9. "Heaven and Hell" **
10. Guitar Solo **
11. "Sign of the Southern Cross/Heaven and Hell" – Reprise **
12. "Paranoid" **
13. "Children of the Grave" **
*previously unreleased in North America
**previously unreleased