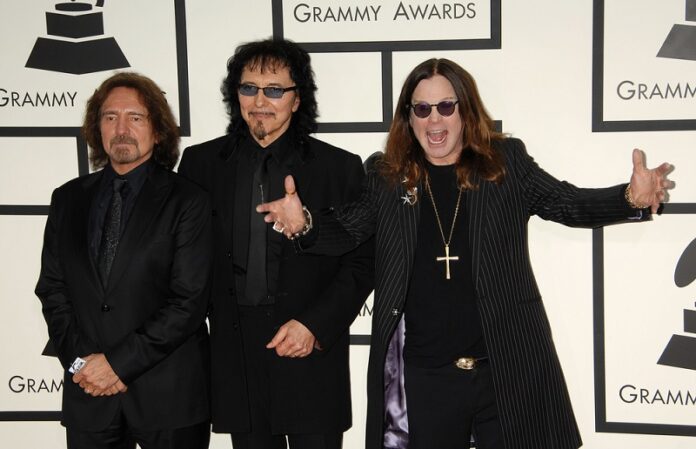 Black Sabbath are expanding on their legendary 'Vol.4' album by releasing a new box set filled with rarities and previously unheard music.
The album consists of iconic Black Sabbath songs such as 'Snowblind' and 'Changes'. Remastered versions of these hits feature on the new release. The new super deluxe reissue will be released on February 12, 2021.
The box set, which comes either in four-CD or five-LP packages, contains 20 never-before-issued outtakes, live recordings, and the original album remastered.
The live recordings are from Black Sabbath's UK tour in 1973. The bonus material featured in the new release consists of an instrumental version of 'Under the Sun'. There are multiple versions and outtakes of the album's opener, 'Wheels of Confusion'. There is also in studio dialogue and false starts of recordings featured in the box set.
Along with the unheard music and live recordings, there are booklets containing quotes from the era, rare photos of Black Sabbath, a poster, and previously unpublished early cover art for the album featuring its original title, 'Snowblind'.
In an interview with Rolling Stone magazine from 2004, Ozzy Osbourne said "We were going to call this album Snowblind because we'd discovered that magic white powder, but the record company said, 'No way,'". He then went on to say "We did so much fucking coke making it".
While the album is set for release in February, there has been no official announcement about pre-ordering the album just yet.
Recently, Sharon Osbourne revealed plans for an Ozzy biopic and how the couple were victims of credit card fraud.
Due to health problems and the pandemic, Ozzy has finally settled on a date for an Irish concert. He will hit the 3Arena with Judas Priest in support in March 2022. Tickets are available here.
Black Sabbath Vol. 4: Super Deluxe Edition CD Track list
Disc One: Original Album Remastered
1. Wheels of Confusion / The Straightener
2. Tomorrow's Dream
3. Changes
4. FX
5. Supernaut
6. Snowblind
7. Cornucopia
8. Laguna Sunrise
9. St. Vitus Dance
10.Under the Sun / Every Day Comes and Goes
Disc Two: Outtakes – New Mixes
1. Wheels of Confusion / The Straightener *
2. Changes *
3. Supernaut *
4. Snowblind *
5. Laguna Sunrise *
6. Under the Sun (Instrumental) *
Disc Three: Alternative Takes, False Starts & Studio Dialogue
1. Wheels of Confusion (False Start with Studio Dialogue) *
2. Wheels of Confusion (Alternative Take 1) *
3. Wheels of Confusion (Alternative Take 2) *
4. Wheels of Confusion (Alternative Take 3) *
5. Wheels of Confusion (Alternative Take 4) *
6. The Straightener (Outtake) *
7. Supernaut (Outtake) *
8. Supernaut (Alternative Takes with False Starts) *
9. Snowblind (Alternative Take 1 – Incomplete) *
10. Under the Sun (False Start with Studio Dialogue) *
11. Under the Sun (Alternative Take with Guide Vocal) *
Disc Four: Live in the UK 1973
1. Tomorrow's Dream *
2. Sweet Leaf *
3. War Pigs
4. Snowblind *
5. Killing Yourself to Live
6. Cornucopia
7. Wicked World (Includes Excerpts of:)
i. Guitar Solo
ii. Orchid
iii. Into the Void
iv. Sometimes I'm Happy
8. Supernaut / Drum Solo
9. Wicked World (Reprise)
10. Embryo
11. Children of the Grave
12. Paranoid
* previously unreleased