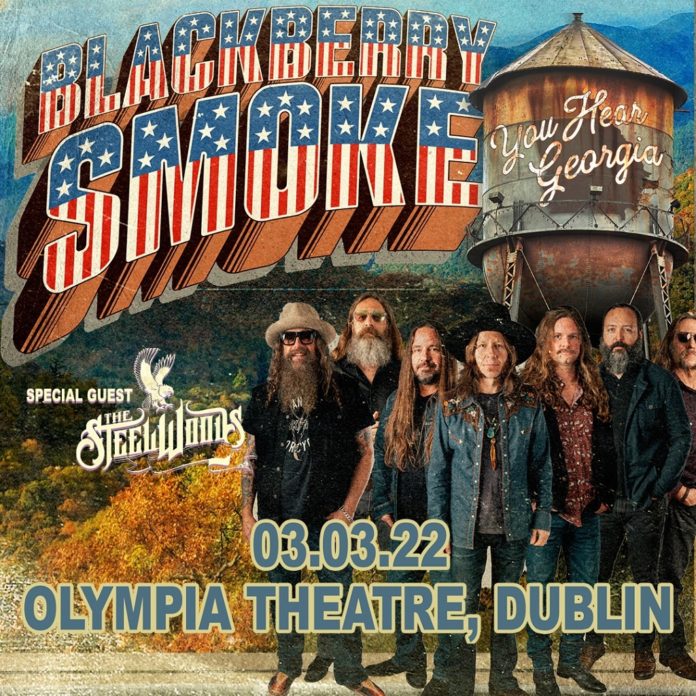 Blackberry Smoke have announced they are coming to Ireland next year, playing the Olympia Theatre, Dublin on March 3rd.
Throughout their career, Blackberry Smoke has embodied Georgia's rich musical legacy, honouring the people, places and sounds of their home state.
As the band celebrates their 20th anniversary this year, their reverence for Georgia has only deepened.
On their latest album, You Hear Georgia, the follow-up to 2018's critically acclaimed Find a Light, Blackberry Smoke is further celebrating these roots with 10 new songs that feel like Georgia, accented by the addition of Grammy-winning producer and fellow Georgia-native, Dave Cobb (Jason Isbell, Brandi Carlile).
"Dave and I had spoken for the last few years about making a record," Starr says. "Finally, it worked out, our schedule and his schedule, and we said, yes—let's make a record."
"Having played music together for so long, it does become a sort of a telepathic thing, where we all are nodding our head at the same time, like, 'A-ha, I know what this feels like,' or what it should feel and sound like," Starr says.
"That's what makes it so enjoyable to be in a band: to play with the same dudes decade after decade," he adds. "Because when you land on something that works to you, you don't want to stop. You want to keep doing it."