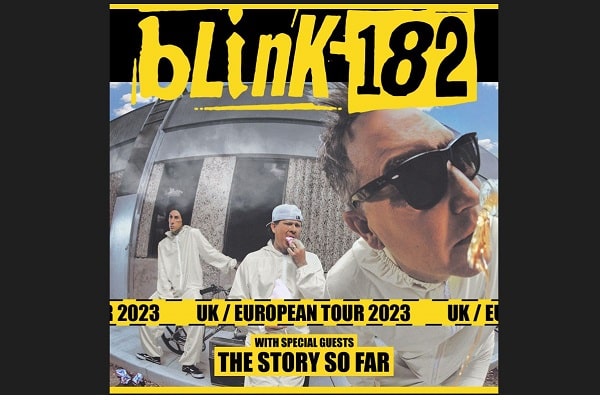 Blink-182 have announced plans to hit Dublin and Belfast, as part of their major UK and European Tour next year.
Produced by Live Nation, this tour will Blink-182's Mark Hoppus, Travis Barker and Tom DeLonge reuniting for the first time in 10 years.
Along with Dublin and Belfast, the tour will see Blink-182 take to the stage across Latin America, Europe, North America, New Zealand and Austrailia.
Kicking off next March, the tour will run right through to February 2024.
Tickets for this tour will go on sale from Friday 17 October via the offical Blink-182 website and Ticketmaster at 10am.
The tour will also see Blink-182 take to the stage at Belfast's SSE on September 4, along with a live performance at Dublin's 3Arena the following day (September 5).
This will also include live performances in Latin America and the US, including Lollapalooza. The festival will also be co-headlined by Drake and Billie Eilish.
Blink-182 will also perform at the 2023 edition of We Are Young with Green Day among others.
"came back clean"
The announcement regarding the Blink-182 tour came a matter of weeks after their co founder Mark Hoppus confirmed that his latest cancer check up "came back clean".
Hoppus was diagnosed with a stage 4 cancer over 18 months ago. However, thankfully he has been given an all-clear since then.
"Very grateful today," Hoppus wrote, "my scan came back clean and I'm cancer-free".
"I have so much to be thankful for today", Hoppus wrote last November "This photo is from June, halfway through chemo, no idea if it was working or not, relegated to the bathroom floor, retching". 
He also added, "If I ever complain about something trivial or unimportant, please show me this photo to remind me of how bad things can be, and how truly blessed I am". More on this from Nova here.