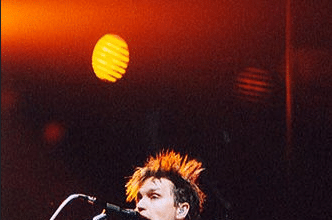 The noughties band released their seventh studio album, California not even a year ago and they are already planning their next LP!
The trio seem to be doing just fine without frontman Tom Delonge, who left the band two years ago to focus on his other interests. Aliens.
Bassist Mark Hoppus sat down with Zane Lowe at Apple Music's global radio station, Beats 1 recently for a chat ahead of the debut of 'Misery' on the station. The track is taken from the deluxe edition of California.  Hoppus revealed that the creative juices are flowing and the guys can't wait to get back in the studio.
Beats 1 is fast taking on a similar role to MTV in the Eighties, when that was the place every artist went to premiere new music.
182 are set to begin writing their next album later this year.
"We'll take a little bit of time off, and then at the end of this year we'll go back in the studio and start writing the next album," he told Apple Music. "We have such a positive energy going on right now… a creative flow. Everybody has a bunch of ideas and we want to capture that. We'll get in the studio as soon as possible."
However fret not, the band aren't quite done with California just yet. A deluxe reissue of the album will hit shelves on May 19, featuring 11 new songs and an acoustic version of the album track 'Bored To Death'.
"For me I just kind of keep my head down and write music that I love and enjoy being in Blink 182 and we work really hard," Hoppus added, " Blink has had a tumultuous past but this is where we are right now and I look forward to continuing with it."
"It is greatest blessing ever to get to play in this band and tour and record music and have people listen to the music and come out to the shows. It's awesome."
Picture Credit: freschwill