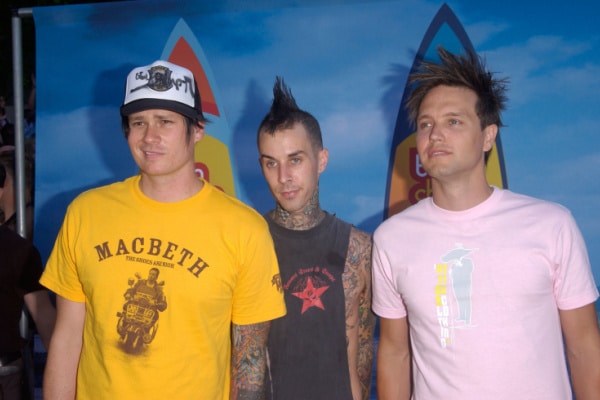 Would you like to listen to the article instead of reading it?
Blink-182 have been teasing new music, thanks to a series of posters, and a mystery website.
The band had already confirmed that their latest album was in the works, having released their comeback single 'Edging' last year.
This single and album will also feature all original Blink-182 bandmembers, following the return of Tom Delonge to the band. Delonge had described this upcoming album as the band's "best one yet".
Blink-182's frontman had previously promised fans that new music was "only days (weeks away)".
"@blink182 music video(s) and album are only weeks (days) away", he wrote at the time. "We are finally here".
Blink-182 And A Series Of Posters
Following this, a series of posters have been doing the rounds across several locations, featuring Blink-182 logos, along with the phrase 'One more time…', which could be the title of a new album or single.
The posters could also feature the following lyrics, according to a Blink-182 Italia fan account, "Do I have to die to hear you miss me?/ Do I have to die to hear you say goodbye?/ I don't want to act like there's tomorrow/ I don't want to wait to do this one more time".
https://twitter.com/blink182italia/status/1699175644746150055?ref_src=twsrc%5Etfw%7Ctwcamp%5Etweetembed%7Ctwterm%5E1699175644746150055%7Ctwgr%5Ed79b3b981442aef8611736b43a45ff84ab7670f1%7Ctwcon%5Es1_&ref_url=https%3A%2F%2Fwww.nme.com%2Fen_au%2Fnews%2Fmusic%2Fblink-182-are-teasing-new-music-with-posters-3494468
On top of this, a QR code on these adverts directs fans to a new "stall" page on the official Blink-182 website.
At the time of writing, fans have been told that the website is "closed for maintenance", and shows a person cleaning Blink-182 graffiti on a tiled wall.
The video also features classic tracks which soundtrack the clip, along while new material also plays out. Check out this page here.
⚠️ SITE CLOSED FOR MAINTENANCE https://t.co/GZ7qb0bNwG

— blink-182 Italia (@blink182italia) September 5, 2023
This cryptic clue comes just days after it emerged that Blink-182 were forced to cancel several shows from their tour, as drummer Travis Barker rushed home to be with his wife Kourtney Kardashian, who was undergoing "life threatening emergency surgery" for their unborn baby.
The band bad previously confirmed the postponement of these shows, due to an "urgent family matter".