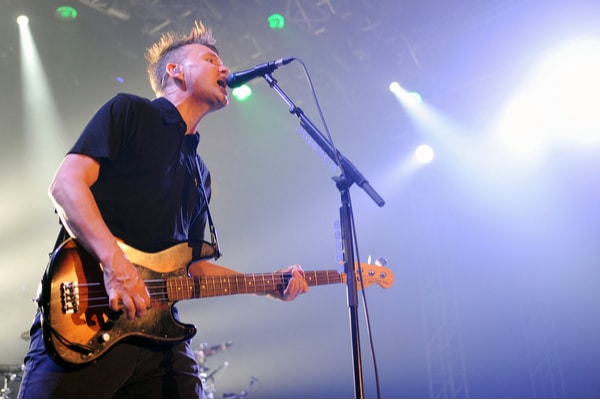 Blink 182's Mark Hoppus has confirmed more details regarding his cancer diagnosis. Hoppus has confirmed that he is battling 4-A diffuse large B-cell lymphoma. It is also the same type of cancer that his mother battled and eventually beat.
The musician shared the news via a Q&A session. He said, "It's entered enough parts of my body that I'm stage 4, which is, I think, the highest that it goes". 
Hoppus remained positive and adamant in his use of language. "We're beating this cancer", he said. "It's just a matter of time". 
The Lymphona Research Foundation have explained that a diffuse large B-cell lymphona is the most common form of non-Hodgkin lymphoma patients are diagnosed with worldwide. 18,000 people are diagnosed with the disease every year. It targets blood cells, damaging the immune system and hindering its ability to fight infection.
It has been described as "potentially curable".
Check out what he said in full here.
Hoppus first confirmed his diagnosis back in June. "For the past three months I've been undergoing chemotherapy for cancer", he wrote.
"It sucks and I'm scared, and at the same time I'm blessed with incredible doctors and friends to get me through this". More on that here.
Hoppus
Hoppus had also shared an update of his ongoing cancer battle a few days ago.
"Apologies if I'm oversharing but it's so surreal to think that this week I'll take a test that may very well determine if I live or die", he said.  "Thanks to everyone for the positive thoughts and encouragement. I read all your replies and it means the world to me. Thank you".
"I'm going to beat this through chemotherapy or through bone marrow transplants, but either way I'm determined to kick cancer's ass directly in the nuts. Love to you all. Let's. Heckin. Go". 
Along with this, Hoppus shared an x-ray image of his tumour around his shoulder. More on this report here.