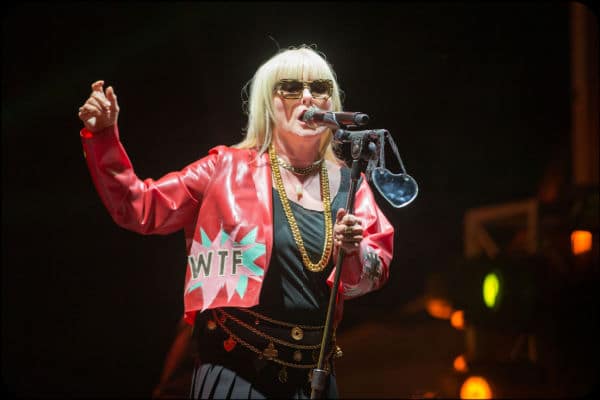 Blondie appear to have confirmed their spot as part of the line up for this year's Glastonbury Festival.
This would mark the band's first performance at the event since 2014, having previously taken to the Glastonbury stage in 1999.
"an exclusive"
Blondie's forthcoming performance at the venue was seemingly confirmed by the rock legends' drummer Clem Burke, who was speaking about their hectic touring schedule.
"We're also doing Isle of Wight Festival and some other festivals… I guess the full list of artists to be playing Glastonbury hasn't really been announced yet", Burke said.
"But we are going to be playing Glastonbury, so maybe you've got an exclusive there". 
Glastonbury 2023
The festival which runs from June 21-25, have already confirmed that this year's line up will be co headlined by music icon Elton John as part of his Farewell Tour.
"We are incredibly excited to announce that the one and only @EltonOfficial will headline the Pyramid Stage on Sunday night at Glastonbury 2023, for what will be the final UK show of his last ever tour", the Worthy Farm Festival stated.
Elton John also added, "As the end of my Farewell Yellow Brick Road tour comes into view, there is no more fitting way to say goodbye to my British fans," he added. "They have been beyond brilliant, and have supported me through all the highs and lows of my career … I can't wait to embrace the spirit of the greatest festival in the world". 
"Every week I speak to new artists on my radio show and Glastonbury is often cited as a pivotal moment in launching their careers – the festival's genuine, enthusiastic support for the best emerging talent is something I've long admired. Thank you for having me Emily Eavis for my final UK show – it's going to be emotional". 
Along with Blondie and Elton John, Guns N'Roses' Duff McKagan also appeared to let the cat out of the bag regarding their reported Glastonbury performance.
Last month, McKagan could be heard using the words "…and Glastonbury is gonna be iconic" in a recent interview.