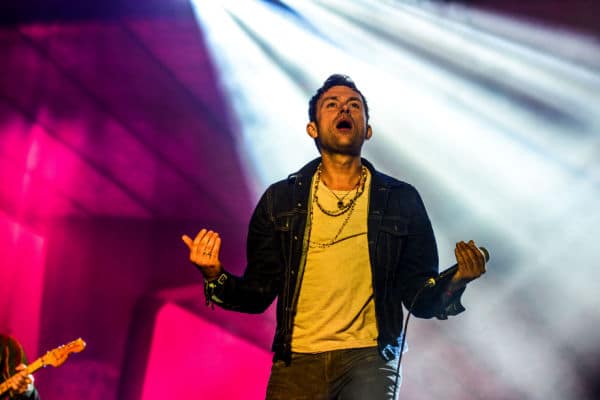 Blur's Damon Albarn has claimed that he would "put money on" an Oasis reunion.
The band's frontman made these comments as Blur marked their comeback tour this week with a show in Colchester on Friday (May 19).
Last month, Blur announced a set of UK warm up shows, along with two shows at London's Wembley Stadium in July. Check out more details of these shows here.
These shows will also support the band's latest album 'The Ballad Of Darren'. 
Oasis split up in 2009, following a huge bust up between brothers Noel and Liam Gallagher, sparking a long term feud between the estranged brothers.
"they are going to reform"
However, Blur frontman Damon Albarn is adamant that the Gallaghers will eventually put their differences aside and reform Oasis.
Speaking in a recent interview with the Sun Newspaper, Albarn is confident that his band's 1990s' nemesis will reunite.
"I can guarantee they're going to reform", Albarn said when asked about the likelihood of the Gallaghers patching things up. "In fact, I've put money on it".
"They're brothers and it would be wonderful to see them reconcile", Albarn continued. "The only funny thing is that our two nights at Wembley will be dwarfed by their SEVEN!". 
Earlier this year, The 1975 frontman Matt Healy called on the Gallagher brothers to patch things up and reform Oasis. Find out how Liam Gallagher responded to this call here.
Back in March, Noel Gallagher also responded to a tweet posted by Liam Gallagher, who insisted that an Oasis reunion was defintely happening.
"Yeah, I understand it, yeah: no-one has really come along to take our place", Gallagher said.
He also added, "There's something in the papers back in England today," he continues. "Y'know, but… he should get his people to call my people, they know who they are, they know where we are… Stop talking on the f*****g internet and let's see what you've got to say".