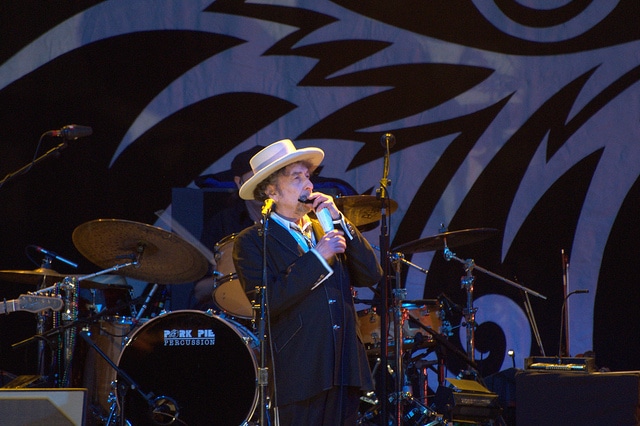 Bob Dylan received the MusiCares Person Of The Year award and in his acceptance speech he talked about Jimi Hendrix, life in the East Village in the sixties and addressed critics who claim he "croaks like a frog".
The charity MusiCares provides "health and medical assistance to needy musicians."
Artists that have won the award of the years includes Phil Collins, Sting, Neil Young, Elton John, Paul McCartney, Bruce Springsteen and Bono.
In an acceptance speech that lasted 3o minutes, Dylan told the crowd: "Critics have been giving me a hard time since day one. Critics say I can't sing."
"I croak. Sound like a frog. Why don't critics say that same thing about Tom Waits? Critics say my voice is shot. That I have no voice. Why don't they say those things about Leonard Cohen? Why do I get special treatment? Critics say I can't carry a tune and I talk my way through a song. Really? I've never heard that said about Lou Reed. Why does he get to go scot-free?"
He moved on to talk about Nina Simone: "I used to cross paths with her in New York City in the Village Gate nightclub. She was an artist I definitely looked up to. She recorded some of my songs that she learned directly from me, sitting in a dressing room. She was an overwhelming artist, piano player and singer. Very strong woman, very outspoken and dynamite to see perform. That she was recording my songs validated everything that I was about. Nina was the kind of artist that I loved and admired."
Recalling his time with Jimi Hendrix, Dylan said: Oh, and can't forget Jimi Hendrix. "I actually saw Jimi Hendrix perform when he was in a band called Jimmy James and the Blue Flames – something like that. And Jimi didn't even sing. He was just the guitar player. After he became famous, he took some small songs of mine that nobody paid any attention to and pumped them up into the outer limits of the stratosphere and turned them all into classics. I have to thank Jimi, too. I wish he was here."
Dylan also discussed working with Johnny Cash in the early sixties: "Johnny Cash recorded some of my songs early on, too, I met him in about '63, when he was all skin and bones. He traveled long. He traveled hard. But he was a hero of mine. I heard many of his songs growing up. I knew them better than I knew my own. "Big River," "I Walk the Line." "How High's The Water, Mama?" I wrote "It's Alright Ma (I'm Only Bleeding)" with that song reverberating inside my head. I still ask, "How high is the water, mama?"
Read the full transcript via (Rolling Stone) of Bob Dylan's MusiCares Person of Year speech here.